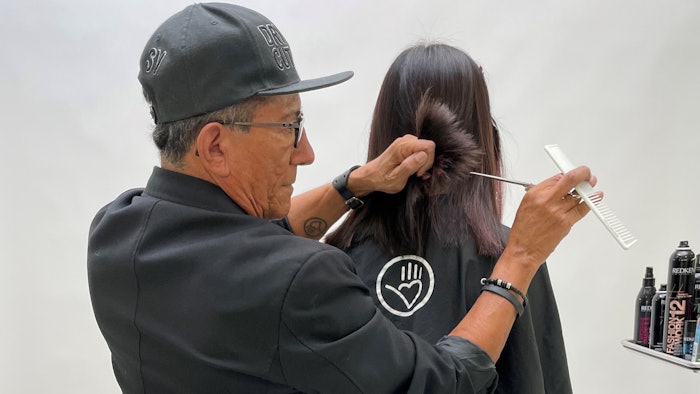 Courtesy of Sam Villa
Layers are trending! Check out these layering tips from Sam Villa, cofounder and chief creative officer at Sam Villa and global artistic ambassador for Redken. 
"Layering hair can add volume to target areas, provide a dramatic shape and enhance texture and natural waves," explains Villa.
Layering creates definition and movement in all hair lengths and types—and makes an appearance in most cuts today. It is especially useful for guests who want to try something new, but don't want to sacrifice length as well as those who wish to enhance natural texture. 
To lock down layering, Villa suggests the following five tips: 
When layering fine hair, don't cut everything! For fine medium-to-long hair types, isolate a zigzag section all the way around the hairline and do not cut it. This maintains bulk and weight at the perimeter. The zigzag section does not give away the detached perimeter.
Remember to pull away from the area where length and weight should be maintained by over-directing. 
Most guests want frothy volume at the crown. To achieve this, detach a zigzag circular section in the crown area and layer it so it is detached, not blended.
When layering a fringe area, cut it dry to better visually control weight, length and density.
"Notching" or "scanning" (shallow point-cutting) provides a way to layer hair in a more uniform manner with a soft edge.