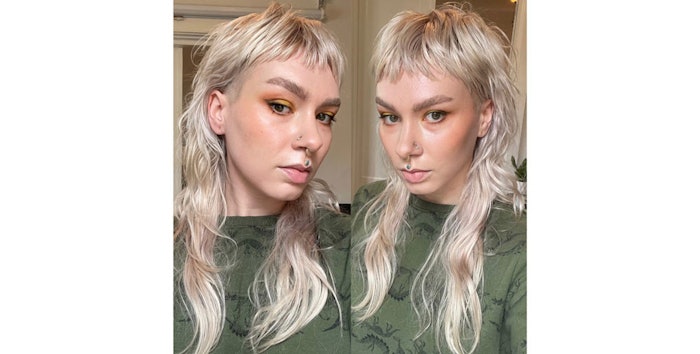 When it comes to hairstyles making waves throughout salons across the nation, the mullet and the shag are definitely at the top. Luckily for clients struggling to decide which style to commit to, the shaglet has entered the scene.
According to Sam Villa ambassador Manda Ziegelman, the shaglet is an empowering cut. "As soon as you chop a fringe and carve some layers around the face, clients become more aware of themselves. They feel badass, become confident, they evolve. There's a liberating attitude behind these types of cuts and it's definitely a mood."
When creating a shaglet, Ziegelman explains that the key element is removing enough weight by "out cutting" or cutting away from the scalp with a razor or shear to create amazing texture and versatility with the shape, and hair is light enough to move freely.
The following are seven tips that Ziegelman shares for approaching the shaglet:
Design: Consider the head shape itself when customizing this look for each guest.
Back: It's vital to collapse the silhouette by removing bulk with tricky internal layering.
Crown: Create strategic texture to build volume.
Ears: Use cutouts above the ears for exposure and to create disconnection, preventing the "dog ears" effect.
Fringe: The ultimate statement piece, the more "chewy" the better. Watch Ziegelman create signature fringes here.
Tool: Use a Sam Villa Signature Series Razor

—

its swivel handle allows dynamic movement for carving out weight seamlessly.
Styling: Ziegelman teaches guests how to hand-style using three simple products by Cult + King that work for all hair types. TONIK for invigoration and scalp health, SETSPRAY for a bit of structure, and JELLY for volume and texture without stickiness or harsh chemicals.