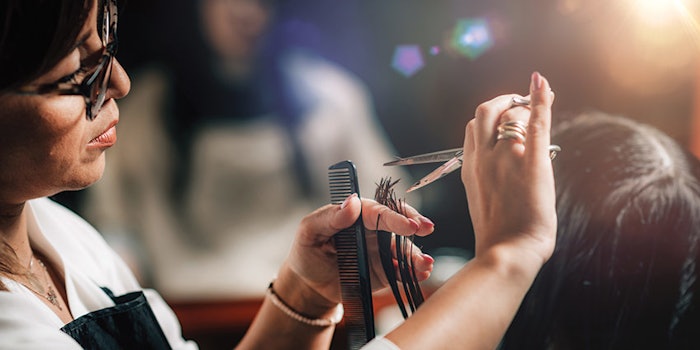 After a long locked-down winter, many clients are craving fresh spring looks to match the rising mercury. Whether opting for a bob, toying with a textured style or eager to try the latest trending men's cut, our experts have tips on how to achieve the perfect snip.
What About Bobs?
Anyone can rock a bob—but face shape matters when it comes to cutting this iconic 'do. "It's important to understand what a client wishes to accentuate or reduce," says Arizon-based stylist and educator Casi Stauffer (@hotsaucehair). For those wanting to widen their face shape, opt for narrow, shorter layers or a bob with curtain bangs. To narrow facial dimensions, bring hair forward via a diagonal part with longer layers in the front and shorter back layers.
Ask detailed consultation questions before making the first snip. Does the client typically style her hair? Does she want an angled cut, layers, a blunt bob, texture? "If cutting from long hair, I always ask if the client has had short hair in the past and knows what to expect," says Stauffer. Sometimes color can confuse the appearance of a cut, which is why several inspiration images are key. Cut the first piece of hair close to the face, then ask if the length is right. "You don't want to finish, get asked to go one-quarter inch shorter and have to start a whole new cut," says Stauffer. Work side to side, snipping one section on the left before mirroring it on the right, to ensure symmetry. And remember to think small. "If you take small sections you can always see your guide and remain confident in the direction the cut is going," Stauffer explains. Finally, style your fresh bob according to the reference image, and offer pro tips for how to replicate that look at home.
Textured and True
Cutting textured hair requires thoughtful planning prior to even pulling out the scissors. "Before you start, determine the health of your client's hair and scalp," says Danielle Green, founder of Radically Curly (@radicallycurly). "You may need to address tress loss, scalp conditions and frequency with which the hair is treated before deciding on a cut." A thorough consultation can help determine the ultimate curly hair goal, from growing length to creating volume to achieving healthy ends. Both technical precision and freedom of movement are required when it comes to treating textured tresses. Stylists should continuously shift hair while snipping to see how curls are responding. One faux pas to avoid? Assuming you must cut hair in a straight, smooth state. "Surprise! Strands will shrink back to their natural textured state when wet," says Green. Should a guest want to wear their hair straight 100 percent of the time, then cutting in a straight state is the right choice. "For both natural and straight styling, understanding elasticity of the hair and where the texture will bounce back are key to a successful cut," notes Green.
Let's Hear It for the Boys
Men's hair has come a long way from buzz cut or simple side part. Today's styles run the gamut, tapping into the hottest fashion and beauty trends. Case in point: the K-pop, which is influenced by Korean pop culture and allows for stylized waves, boyish layers in a range of colors and creativity of movement. "This look can work on most hair types, from straight to wavy to textured," says WAHL Professional educator Kevin Nguyen (@yakuzabarber). "The key is to avoid being scared—free your mind and add uniqueness to your hair canvas." Perms are likewise hot for men this spring, especially for those already used to sporting curls thanks to naturally coiled or wavy tresses. "Make sure your client has enough length to support curls, then add your fade or taper after perming," says Nguyen. "Avoid cutting the top too short, and ensure the disconnection is placed correctly." Finally, kick off the season by thinking retro. "A middle part with disconnected fringe is a classic '80s style that's making a comeback," says Nguyen. Start by finding your client's center part from apex to fringe, and create volume while avoiding snips that are too short or high. "This look works best with added weight on each side," explains Nguyen.
The Cutting Edge
Check out these top implements for your cutting needs.
Made in Japan, Jatai Feather Styling Razor offers three blades—Standard, Standard R-Type and Texturizing—for every shearing need. @jataifeather
Diamond Contour 6.75-inch Shear by Surface flaunts a surgical edge to provide an ultra-clean cut for both right- and left-handed stylists.
@surfacehairhealth
Larger blades mean stylists can cut condensed sections with increased precision and snip off more hair in one swipe, as evidenced in the Eufora International 7-inch Shears. @euforainternational
WAHL Professional Cordless Senior is equipped with high blade speeds plus an 80-minute run time. @wahlpro
KARG Shear K-SoftCut 6.1 boasts a hybrid blade-scissor design with a patent-pending Zero Gravity Tension System for lightweight cutting. @mikekargofficial
Now sporting new gold and copper color options, Andis' constant motor speed technology ensures the Master Li Cordless Clipper won't drag or stall—even in the thickest hair. @andisclippers
PerfectBlend Thinner by Olivia Garden features 25 uniquely designed sharp thinning teeth with micro-serrated edges to remove bulk from strands without leaving a visible line. @oliviagardenint