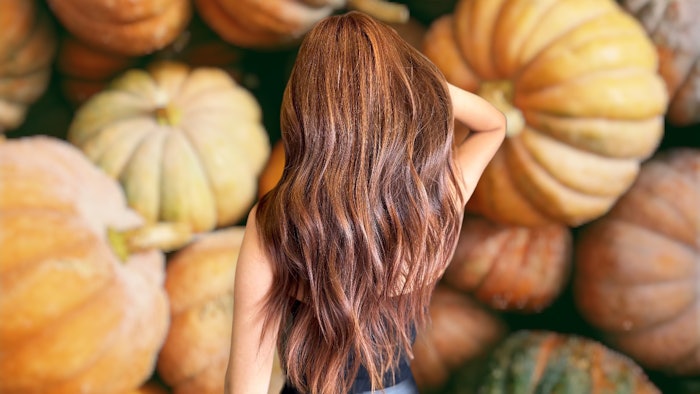 Courtesy of PRAVANA
PRAVANA Artistic Mentors George Blanco and Ashley Krupa Berg have hopped on the Cowgirl Copper trend!
Blanco (@georgeeblancoo) and Krupa Berg (@thegirl_withpurplehair) created the look using products from PRAVANA. You can recreate this style using the tutorial below. 
Lightening Formula: 20g PRAVANA Pure Light Power Lightener + 60g PRAVANA 20 Volume Creme Developer
ChromaSilk HydraGloss Formulas: PRAVANA ChromaSilk HydraGloss 45g 9Gbv + 15g 6Gbv +3g 7Cr+ 63g PRAVANA Zero Lift Creme Developer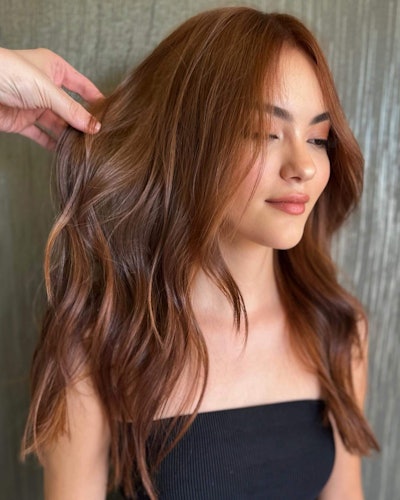 How-To: 
Prep the hair with PRAVANA's Purify & Revive PRIME to diminish any minerals.
Utilizing a Wet Balayage technique and the Lightening Formula, pre-lighten the hair to a Level 7.
Cleanse with PRAVANA's Intense Therapy Cleanse.
Rinse and dry the hair completely.
Taking ½" sections, apply the HydraGloss Formula from roots through the ends.
Process 20 minutes at room temperature. Tip: ChromaSilk HydraGloss is a progressive demi-permanent color so timing can vary depending on porosity.
Cleanse and Condition with PRAVANA's Color Protect regimen.
Style as desired.   
Additional Credits:
Model: @alyssa.rruiz
Cut & Style: @JoelTorresStyleMakeup    
Makeup: @ericka_ale.c