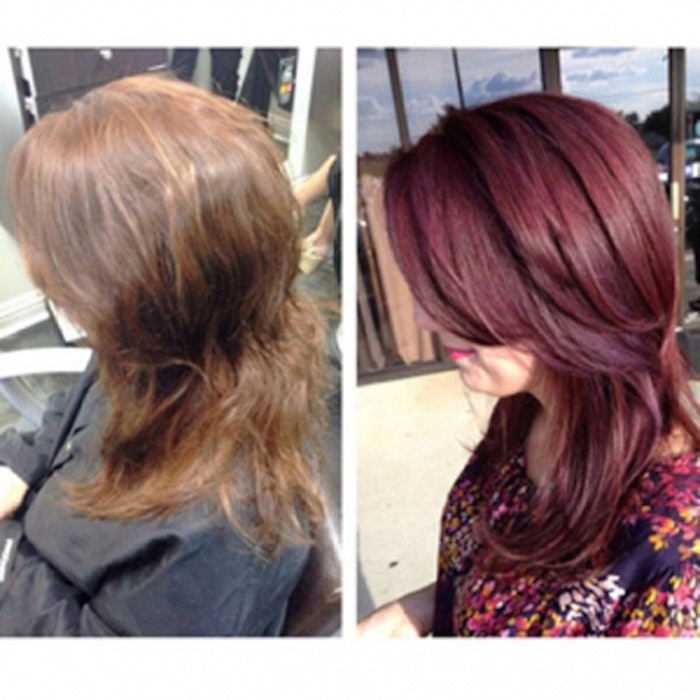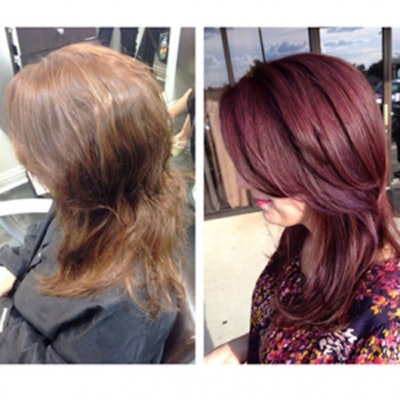 Ashley Conway, an Aveda colorist at Doug's 2 Salon Spa in Montgomery, Alabama recently created this gorgeous, rich, raspberry hair color for her client. Conway, who specializes in balayage and corrective color, said, "[The] client came in [with] faded, level 6, color-treated hair. She wanted an all-over purple look, [that was] still sophisticated. I chose two Aveda full-spectrum permanent hair color formulas to achieve this look."

Formula ONE (base and most of her hair): 40 grams 5 N
20 grams INTENSE BASE
4 grams VR pure tone
2 grams RO pure tone
1 gram pure pigment violet
60 grams 20 volume color catalyst(developer)

Formula TWO (highlights):
5 grams pure pigment VIOLET
2 grams LVB pure tone
40 grams EXTRA LIFTING CREME
80 grams 20 volume color catalyst (developer)

TECHNIQUE:
Says Conway, "I painted the clients roots all over first with Formula ONE. I then went in and did a partial foil (ear to ear), alternating slices, then thick weaves. After that, I pulled the remaining hair root to end through with formula TWO. She processed with no heat for forty minutes."