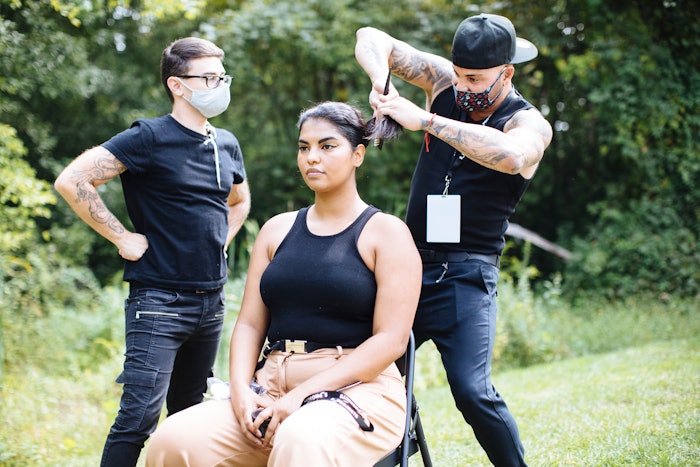 Anthony Cole, Sebastian Professional International Artist, created abstract buns using Sebastian Professional to complement Christian Siriano's "life at home" inspired collection.
Christian Siriano's spring 2021 runway show took place in the designer's own backyard. It was inspired by what he observed and experienced while being quarantined at home in Connecticut: colors, shapes, silhouettes, daily outings and even favorite quarantine movies.
 "Even at home, things can inspire us, and I hope this collection shows that fashion remains powerful despite the circumstances, and don't forget, this November, VOTE." – Christian Siriano
 There were pandemic safety precautions in place. Anthony styled models outside in the open air, with no electricity- meaning no heat tools. Anthony only used Sebastian Professional products to complete the looks.
To Recreate the Look:
Step 1: Divide front section of hair 2 inches into hair line, brush forward and away.
Step 2: Mix Sebastian Professional Craft Clay and Sebastian Professional Dark Oil together in hands to emulsify. Distribute throughout remaining back section of hair.
Step 3: Pull this section back into low ponytail at the bottom of head, slightly off centered. Secure low pony with elastic band.
Step 4: Spray Sebastian Professional Shaper Zero Gravity hairspray onto a bristle brush, brush through loose front section of hair you originally separated. Pull section straight back to meet rest of hair in the low ponytail. Fasten two sections together into one ponytail using elastic band.
Step 5: Emulsify Sebastian Professional Craft Clay and Sebastian Professional Dark Oil in hands and apply throughout combined ponytail.
Step 6: Twist your ponytail once upwards, curving against the back of your head. Fasten twist with a hair pin. Hair will bend naturally into a bun shape.
Step 7: Continue to twist remaining ponytail following the same direction, in an S motion, staying close to the back of your head. Pin twist down periodically with hair pins, creating an abstract bun.
Step 8: Finish with Sebastian Professional Shaper Fierce hairspray for strong hold.
*For textured hair, add Sebastian Professional Microweb Fiber to Craft Clay and Dark Oil combination for added grip.