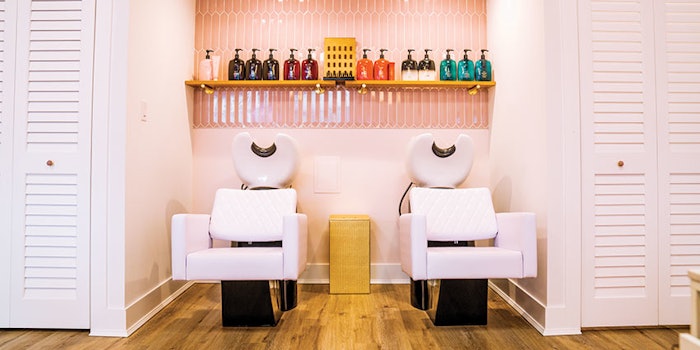 Park Ridge, New Jersey
INSIDE STORY:
Long before YouTube tutorials existed, Natalie Lamorena taught herself how to braid. She was four years old, and her determination and skill quickly gained her the nickname "Beauty Parlor" by second grade. "When I was a junior in high school and everyone was applying to college, I told my parents I wanted to go to beauty school. They immediately shut down the idea," Lamorena recalls. No matter: She followed the agreed-upon path, attaining her Bachelors in Management from Florida International University. Upon graduating, she at last pursued her true dream: attending beauty school, garnering her coveted cosmetology license and eventually becoming a certified hairstylist and colorist at the esteemed Redken Exchange in New York City.
It was a circuitous path, but that management education helped propel her to open Polished Pub (@polishedpub), a 900-square-foot wonderland meant to deliver what Lamonrena says is "life's greatest qualities: beauty and time."
"I'm busy, my sister is a working mom, and my mom is a business owner; I know what it's like to be short on time," she says. Taking into consideration the limited minutes most women on the go have, Lamonrena approached Polished Pub with a business model that focuses on quick services, such as blow-dries, styling, manicures and makeup, so that clients can get in and out in a snap.
Top on the Polished Pub's list of time-saving merits: the Headicure. "This service combines a manicure and a blowout," Lamonrena explains. "I wanted to be an ideal one-stop shop, whether clients are getting ready for prom or just getting a weekly Headicure."
Though the space is meant for clients to slip in and out in record time, Lamonrena didn't skimp on decor. Working with interior designer Vanessa DeLeon, the two brought Lamonrena's Pinterest board to life with a design that's "modern and chic and never too pink." To wit: Soft petal-pink paint sets the scene for a feature wall of blush roses with a neon pink sign that reads #NOWPOLISHED, two dusty pink leather swings with fluttering fringe beckon clients, and a wall of soft pink tile adorns the shampoo area—even the disinfectant is a lovely shade of watermelon. "I chose pink because it's feminine," says Lamonrena. "The color pink is also known to have a calming and soothing effect, which is important in a salon atmosphere."
The pink palette is balanced with the warmth of a blonde wood feature wall and matching blonde wood floors as well as gold tones, found in the form of swivel salon chairs, heptagon mirrors and two tripod lights with gleaming gilded beauty dishes. High-gloss white lacquer workstations and plenty of COVID-protective Lucite give the space a pristine feel. And then there's the rose-gold Freestyle Systems Freestylist blowdryers that hang amidst frosted globes. "It was essential for the blowdryers to hang because we service clients who are getting their hands worked on at the same time," Lamonrena explains. "This meant that as stylists, we wouldn't be able to spin their chair, and since we're moving around them instead, we couldn't have traditional cords because they would tangle around the client."
Though Polished Pub had somewhat of a rocky start—after signing her lease on March 4, 2020, New Jersey went into pandemic lockdown, delaying construction until mid-June, which was then paused again to decipher COVID-related changes to NJ Cosmetology regulations—Lamonrena persisted, finally opening the doors on January 11, 2021. "It was still the middle of the pandemic, and January in a salon is normally slow as is," she says. "But the night before we opened, we released a TikTok that showcased a Headicure for the first time, and it actually went viral and got 600,000 views that night." That led to a ton of traffic to Polished Pub, helping Lamonrena fully realize her childhood nickname, "Beauty Parlor."
Pink, pink and more pink: Subtle shades of the feminine color make the shampoo area inviting.
WHAT'S UNIQUE
Do It for the 'Gram: "Every single detail was thoroughly thought-out," says Lamonrena, right down to the highly Instagrammable rose feature wall, complete with two swings and a photo-worthy neon sign. "Our clients absolutely love the rose wall and have literally traveled three hours just to come take photos!"
Truly Bonded: "Our staff is very close. It's important for us to all get along and know how to work as a team since we service the same client at the same time," says Lamonrena. "We do a lot of bonding activities, such as dinner or beach days. We also value education and have product knowledge via Oribe education quarterly."
Rose-gold Freestyle Systems Freestylist blowdryers provide freedom of movement for the tag-team service, the Headicure.
RETAIL HAIR LINE: Oribe Hair Care
REFRESHMENTS: Wine, champagne, water, coffee
POPULAR SERVICE: The Headicure. "Since it's a simultaneous service (hair plus nails) it saves women a lot of time," says Lamonrena.