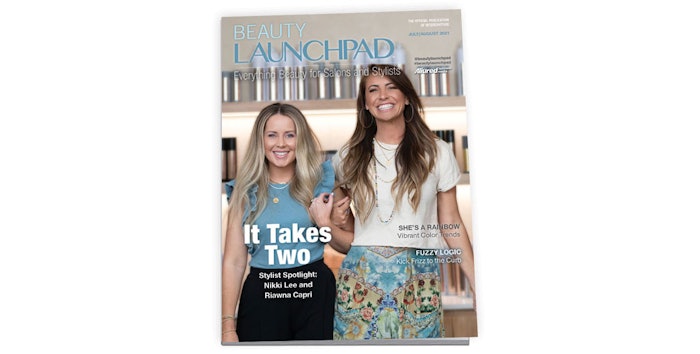 At Beauty Launchpad, our team has strived for the focus to be on you: the artists, educators and small business owners who are the lifeblood of the salon professional industry. Hence why it's time our covers are a reflection of our publication. Beginning this issue, Beauty Launchpad's covers will feature hairstylists who are making an impact in the professional beauty community, whether through their charitable endeavors, editorial or celebrity work, education leadership, or other efforts.
Kicking off this exciting new chapter for Beauty Launchpad are Nikki Lee and Riawna Capri, who check off myriad boxes with all the facets they touch in the professional beauty space. They are salon owners (who helm famed Nine Zero One salon in West Hollywood, California); celebrity hairstylists (their work can be seen on Hollywood's hottest manes, such as Selena Gomez, Emma Roberts and Hilary Duff); educators (Beauty Coach provides hair techniques and other industry knowledge); hair care brand owners (In Common Beauty offers a healthy hair care solution); and leaders of a charitable organization (BeYOUtiful Foundation, which provides resources to those undergoing cancer treatments).
Wondering how Capri and Lee do it all? Flip through our August digital magazine learn more about this dynamic duo.
Summer Favorites
These are the products I've been tapping this season to ensure my hair and skin stay their healthiest.
R+Co SUN CATCHER is a leave-in treatment that's ideal for nourishing dry hair and protecting it from the elements. I apply it prior to hitting the beach to give my locks an extra boost of moisture and fight frizz. @randco
Éminence Organic Skin Care Sun Defense Minerals is available in six shades (including my personal go-to, sheer Translucent) and features an easy-to-apply mineral-based powder barrier of zinc oxide with SPF 30. It's great for on-the-go touch-ups when I've already applied my makeup and want to avoid using a traditional sunscreen lotion. @eminenceorganics
Glytone Age Defense UV Mineral Sunscreen Serum Broad Spectrum SPF 50+ is my go-to lotion before applying my makeup for the day. The mineral-based sunscreen not only provides protection against UV rays, but also incorporates patented Active Stress Defense technology that works to stave off visible signs of premature aging. @glytoneusa
Dermalogica Total Eye Care with SPF 15 helps to conceal dark circles, reduce puffiness and defend the delicate eye area from sun damage. @dermalogica