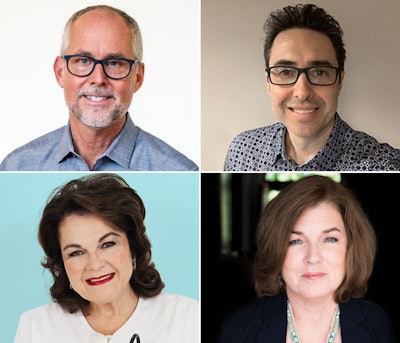 Beauty Changes Lives, the nation's only non-profit focused on equipping and empowering future salon and spa professionals, is expanding its board of directors. The new additions bring the board to 17 leaders representing diverse facets of the beauty industry, including salons, spas, distributors, educators and manufacturing. In addition, board representatives cover the varied beauty categories including hair, skin, nails, makeup, massage and barbering. Please welcome the four newly elected directors joining the Beauty Changes Lives Board of Directors:
Tom Kuhn, CEO/Founder, Qnity
As a CPA and former spa/salon owner, Tom Kuhn has developed a reputation as a turnaround expert. He applies his passion for financial management to the practical business needs of salons and spas, drawing on consultancy experience with some of the world's most esteemed beauty and financial service brands. Kuhn is founder of Qnity, a proprietary education and training service curated to the nuances of spa and salon management.
Jason Lumsden, Chief Commercial Officer, Marianna Industries
Jason Lumsden's experience spans the beauty supply chain from cosmetology school programs through product manufacturing, distribution and retailing. Since joining Marianna Industries in 2016 he has led double-digit annual growth increases. Earlier in his career, Lumsden held key roles at divisions of Coty Beauty, Revlon Professional, and Hairuwear Inc.
Lydia Sarfati, President and CEO, Repechage
As a skincare innovator, author and entrepreneur, Sarfati is the visionary behind uni-dose professional facial treatments, such as the  signature Repechage Four Layer Facial. Sarfati has been honored with numerous skincare and business leadership awards including Polish American Woman of the Year 2019, CIDESCO Medaille due Merite, and the Dermascope Legend Award among many others.   
Karen Short, CEO, Universal Companies
Karen Short's leadership in the global spa sector spans a breadth of responsibilities including  sales, marketing, and education initiatives at elite spas and destination resorts. Her passion for fostering an entrepreneurial, customer-centric culture has contributed to several successful mergers and acquisitions. As CEO of Universal Companies, Short leads a team of professionals who continually identify products and solutions for spa and wellness professionals and leverage digital technology to deliver customer value. Upon joining Universal, Short brought an extensive background in executive leadership in the hospitality industry and a successful track record of executing aggressive growth strategies. 
Welcoming the new directors to the Beauty Changes Lives board, Founder and President Lynelle Lynch stated, "While these new directors bring an inspiring blend of entrepreneurship, corporate leadership, applied practice and specialized disciplines to our board, the common denominator linking their shared success is a passion for the possibilities that the professional beauty industry presents to licensed professionals."