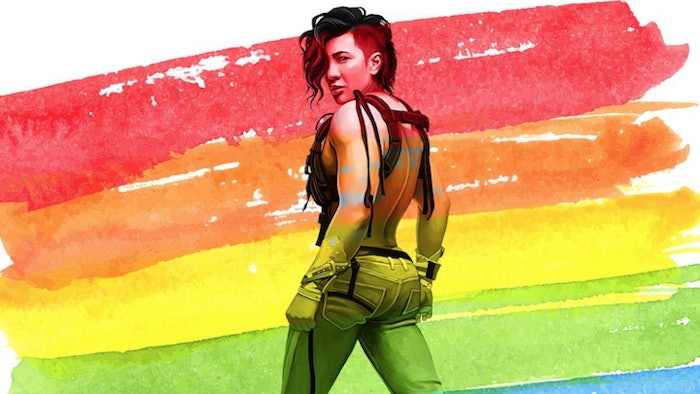 It has long been said that the hair industry is an ally to LGBTQIA+ individuals; many have found a home and acceptance within the professional beauty community.
But everyone's experience is different with acceptance and inclusion, and their paths to finding beauty are complicated and unique. Here, we talk to the incomparable Guy Tang—who openly aligns with the LGBTQIA+ community—about his personal story of coming out and finding professional beauty.
As a kid growing up in Tulsa, Oklahoma, Tang felt like an outsider. He knew he was drawn to hair—She-Ra, Jem and the Holograms and Barbie played muses—and he also had an inkling that something deep inside of him was different, but he pushed it all away.
"I had a hard time discovering my own sexuality because where I'm from those things were sins," he says.
What's more, Tang felt the weight of stereotypes toward his ethnicity. As a Vietnamese and Chinese child of the '80s, he didn't see positive representation of anyone like him.
"I had a double identity crisis, and I couldn't just open up my phone and see, 'Oh, there's someone who looks like me,'" he says.
Racism also deeply impacted him; a Caucasian ex-girlfriend's uncle pointed a gun at Tang on his 16th birthday.
"That haunted me most of my life up until my 27th birthday. I was so messed up in my head ... I didn't know myself," he says.
But then, hair saved him—though the path to self-discovery remained a long and often hard-wrought one. Upon expulsion from high school two weeks before graduation, Tang found himself diploma-less, meaning he couldn't attend beauty school.
"I really wanted to give up on life; I felt like I couldn't be myself," he admits.
After pursuing three rounds of homeschooling he attained his diploma, and immediately enrolled in beauty school in 2003. His classmates weren't immediately receptive, in part due to Tang's overprepared nature and laser focus on all things hair—this lack of a warm welcome became a thread that followed Tang throughout his career.
"From the beginning it was never easy in the beauty world," he says.
He wasn't openly identifying as gay when he entered the industry; he had a long-term girlfriend who eventually became his fiancé. 
"I didn't know the difference between love and who I really am. I didn't know if I was gay. I was told to pray it away," he says. "Some people think you're in denial. Love has no gender. You can't put a label on loving someone."
After pursuing photography to better shoot his clients' hair, a chain of events led him to realize his truth at age 27.
"When I came out, the hardest thing was to look at myself in the mirror, embrace myself and be true to myself," he says.
Once clients caught wind, some left and some told them they'd pray for him.
"My whole world completely changed in the blink of an eye," Tang says. That was 2008.
Tang moved to Los Angeles in 2009, and from there his career exploded—thanks in part to his openness in sharing both his techniques and personal struggles as a gay man. He used social media, like YouTube and Instagram, to amplify his message of inclusiveness to the industry that he loves. He believes this ability to share comes from his early days in beauty school.
"What I've always done is, instead of being mad about how others dislike my ambition, I share my knowledge with them. I carry that mentality with me every day," he says. "It gives me such purpose when I share. I think because I struggled with my own identity and didn't have anybody to trust, I want to give people who felt like me someone they can look to."
Whether Tang knew it at the time or not, he effectively created a paradigm shift in how the industry shares hair techniques and formulas. He doled out his knowledge for free, which ruffled some feathers—as did his outgoing personality. But Tang vowed to always be more accepting—or, as he likes to say, to embrace all. In fact, he organically created the #hairbesties culture on Instagram, where people from all walks of life support one another and happiness in hair and the everyday is a goal.
"You have to be happy before you can do hair successfully. As an educator, I don't just talk about techniques—it's beyond that. How about we feel good about who we are, too?" he asks.
And though Tang possesses a special affinity to the gay community (he makes it his mission to walk in the Los Angeles Pride parade as often as he can), he feels like there's room in the hair world and beyond to improve on lifting up everyone—no labels required.
"Everyone is going through an identity crisis of sorts. We all need to embrace who we are. I've found that there are so many people who reach out to me on social media and say, 'You've helped me accept being a redhead or my disfigurement or my speech impediment'—whatever makes them feel different than everyone else. My platform in hair became bigger than just one thing; it wasn't just about being gay or Asian. I realized everyone needs to be represented. I think that being gay has shown me true adversity, and through that adversity I understand we have to embrace all people—no labels," he reasons.
And, with #hairbesties, a growing list of empowering songs (Tang sings about his struggles and accomplishments in tunes like "Midnight," "Superpower" and "Take Me As I Am"—posted below—which hairdressers can use royalty-free), a color and styling line (@Guy_Tang #MyDentity) devoted to embracing one's inner and outer beauty, and a complicated 38 years of life that have shaped his worldview for the better, Tang is ready to embrace all.
This piece was originally published by Beauty Launchpad in June 2020.