The Professional Beauty Association (PBA) is excited to announce the launch of its Beacon 2021 Program, its flagship elite program that provides top beauty industry students with a unique opportunity to gain career insights from leading beauty influencers and network with owners from the most prestigious salons across the country. Designed to inspire and prepare students for a successful career, the Beacon program accepts a limited number of applicants each year. Application dates open June 15, 2020 and close October 9, culminating in the live Beacon 2021 event on January 29-31, 2021.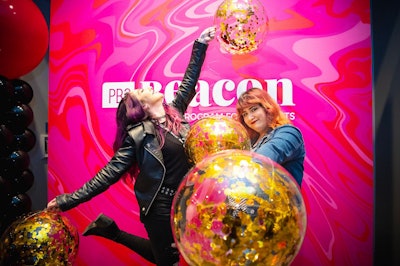 New for 2021 includes a series of weekly Creative Conversation webinars at www.probeauty.org/events-programs/beacon, to learn how Beacon can ignite your career and hear first-hand experiences from Beacon Alumni and industry experts. All Creative Conversations are available now unless otherwise indicated:
Geno Stamporo: Beauty business coach and speaker shares how Beacon can change your career – and your life.
Jalia Pettis: Esthetician, brand consultant and Beacon alumna, shares where Beacon has taken her and tips for creating the brand of you.
Elizabeth Faye: This esteemed business coach for ambitious hairstylists, founder of Hair Love Retreat and Beacon alumna, shares her insights and tips.
Matt + Jen Martinelli: These Canvas Recruit Founders will talk about how to set yourself up for success online with a digital portfolio, and share their insider tips to grow and network with the beauty industry's best artists.
Fallyn Mireault: This Beacon alumna shares her insights on the Beacon program and where it's taken her throughout her career.
Dorothy Greene (June 15): Beacon grad and 2020 NAHA Student Hairstylist of the Year shares how the Beacon program has helped her skyrocket her career.
Michael Shaun Corby (June 22): The ever-inspiring Global Creative Director for Living Proof shares his story on how he became an internationally recognized stylist, educator, and visionary.
This unique educational opportunity is designed to inspire upcoming young professionals with a life-changing experience to kickstart their beauty careers by learning from the best in the industry. Each student connects with mentors and obtains professional guidance to help shape their careers, with insights from top industry experts and life-long connections you can't get anywhere else.
"Beacon is the new roadmap to success," explains PBA Education and Training Manager, Leslie Perry. "It's the one student program designed to help shape young beauty professionals' career trajectories; giving them national recognition and access to a network of thousands of top salons across the country, while providing the tactical skills they need to design their own unique path towards success."
To apply, students must submit a Canvas Recruit resume, a video introduction, Instagram portfolio and a letter of recommendation through PBA's application portal at www.probeauty.org/beacon. Entry opens on June 15, 2020 and closes on October 9, 2020. Early application fee is $45, and discounted to $25 for PBA members from June 15 through July 31. Regular application fee is $75, and discounted to $50 for PBA members from August 1 through October 9, when the entry period closes. Applications are considered by a panel of industry judges, including salon and spa owners, manufacturers and distributors. Attendee pricing is $150.
The acceptance announcement will be on October 28 and shared on the PBA Facebook page and at probeauty.org/beacon. Accepted students also receive an ISSE ticket, a NAHA ticket, and exclusive Beacon swag.
For more information on PBA's Beacon program and the application process, please visit www.probeauty.org/beacon.
[Image courtesy of PBA]