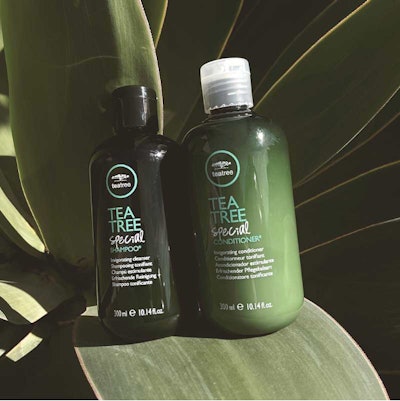 Today marks the 50th Anniversary of Earth Day, and while festivities sadly had to be put on hold, the good news is you can still celebrate—and make a difference—by planting a tree without even having to get up from your couch, all thanks to Paul Mitchell Tea Tree. 
Long before it was a mainstream movement, John Paul Mitchell Systems co-founders John Paul DeJoria and Paul Mitchell took steps to make their company environmentally friendly. Among their earliest initiatives was founding a solar-powered farm in Hawaii to sustainably source all of the awapuhi used in JPMS products. To this day, John Paul Mitchell Systems—and the Tea Tree brand in particular—is committed to honoring Paul Mitchell's legacy through initiatives dedicated to giving back to the planet and creating a more sustainable workplace. From participating in reforestation efforts across the globe, adopting the most current green practices in packaging and finding new ways to go green in our corporate offices, here are just a few of the ways that your favorite Tea Tree Special Shampoo is helping make a positive environmental impact.
So how exactly do you plant a tree from your living room? Visit teatreehair.com/reforestaction and use the code TEATREE2020 to plant a free tree and learn how you can create positive change for our environment and communities around the world. Tea Tree has been a proud supporter of Reforest'Action since 2014 and their mission to green the globe. The largest digital community of tree planters, Reforest'Action works to plant trees in areas where reforestation is needed most. Tea Tree's goal this year? A commitment to plant 1 million trees by the end of 2022. Planting just one tree makes a huge impact. One tree can create: 
1 hour of work for a local farmer 
3 animal habitats 
4 months of oxygen 
An offset of 360 miles' worth of CO2 from cars 
Follow @TeaTreeHairCare and #OneMillionWithTeaTree to learn more and join in the fun!