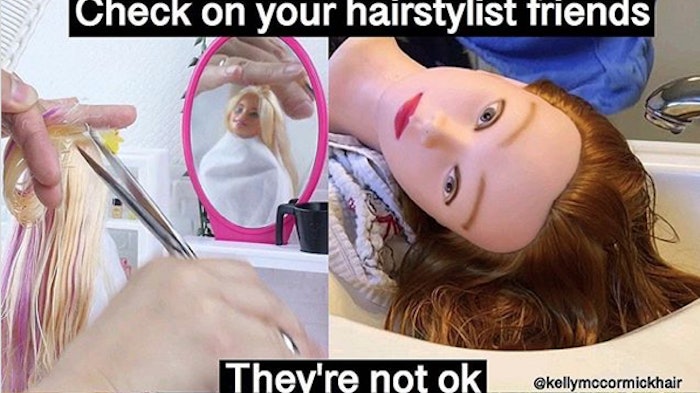 Sometimes, even during the darkest of times, a little levity goes a long way. And since hairstylists are a fun-loving lot, it should come as no surprise that they have created a bevy of amazingly funny coronavirus memes to help us all have a little chuckle. Of course, some are insightful, like the post from @jessdeehair, and others are bittersweet, like the one from @soflytaxidermy, but most are just downright hilarious! Scroll down to see the top 9 most liked coronaviurs hair memes from the past month. Stay safe and stay sane, everyone!
9. Even Hairstylists Aren't Doing Their Hair in Quarantine
With 3,104 likes, this post really resonated with the Beauty Launchpad Instagram audience. For example, @colorbykyliemyst commented "Omg yes, the knot at the top of my head is permanent at this point from a constant bun," and @frosted_kale was worried we were spying on her: "Wait, can you see me??????"
8. Ways Clients Can Help Stylists During Quarantine
Receiving 3,390 likes, @jessdeehair's meme encouraged clients to help out their stylists, most of whom are not receiving any pay during this lockdown. As she says in her post, "Please consider taking any of these small steps to help out those who will go entirely without income during this shutdown. The latter is my personal favorite, but hey... who's keeping score."
7. Time Doesn't Fly When You're In Lockdown
We posted this meme on March 13, way back at the beginning of social distancing and salons closing, and it received 3,403 likes. We found it on @passionsquared's page, who found it originally on @riawna's page. 
6. Devil May Care
Riffing on the popular "I am the storm" meme, @bottleblonde76 summed up a whole mood with her meme, which garnered 3,465 likes and more than 100 comments.  
5. Colorists in Quarantine Be Like...
With more than 41,000 views and 3,780 likes, this video of @glam.by.heather desperately coloring her grass had people laughing with her, and even complimenting her: @ryan.escandon commented, "That's good saturation right there."
4. True Colors Shining Through
At the beginning of shutdown, back on March 13, we posted this gem and it received 3,985 likes. 
3. All the Feels
Truly, when you get right down to it, many stylists are struggling with lack of human interaction almost as much of the lack of income. After all, there aren't many careers where you touch someone for a living. What's more, so many clients become friends, making this time apart doubly difficult. This is why this bittersweet post from @soflytaxidermy resonated with so many people, receiving 4,444 likes and 350-plus comments. 
2. "We're Not OK"
With 4,588 likes and more than 300 comments, this lighthearted post from @kellymccormickhair underscores just how much hairstylists miss doing what they love most: making their clients look and feel their best. So, she did what any good hairstylist would do instead: make a great meme. 
1. Cheers to That!
While beauty pros may not be considered to offer "essential services" by the government, clients all over the country have found out firsthand just how essential they are—and stylists have also realized it about themselves, as evidenced by this post that received nearly 6,500 likes and 165 comments. "No one takes us for granted anymore, that's for sure!" commented @colorbykyliemyst.