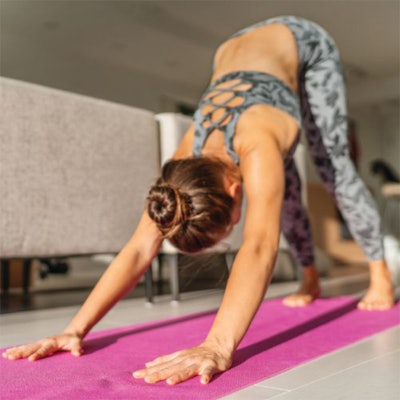 Finding time for oneself, can often—ironically—feel like a chore in and of itself! But saving a few moments a day for self- care can bring about several benefits, including stress reduction, a healthier immune system and overall superior emotional well- being. Whether you've just spent the day tending back-to-back clients or teaching a styling class, be sure to implement these wellness tips into your daily lifestyle.
Be Active: After spending all day on your feet, the last thing you may want is to be active, but trust us: You'll be happy you did. Being active will help increase muscle blood flow and decrease tension accumulated in your body after a day spent styling. Consider doing a couple of stretches or a few sets of downward-facing dog—a yoga pose known to help strengthen the arms and legs. And if you want to sneak in a little cardio without having to strap on your running shoes, dance it out to your favorite song.
Take a Soak: Immersing in baths has a long history of wellness. Cleopatra, the last pharaoh of Egypt, took frequent baths filled with donkey's milk to achieve her youthful glow; likewise, the Romans built bathing complexes because of the water's healing benefits. Now we know that steeping includes a number of perks such as aiding with sleep, relieving muscle pain and improving blood circulation. Slap on a sheet mask, light a candle, grab a book (or the latest issue of Beauty Launchpad !) and let the relaxation begin.
Organize Your Space: Create a home space that would make tidying expert Marie Kondo proud! Decluttering your area can help reduce anxiety and even, as Kondo puts it, "spark joy" after a day at work. But you don't have to spend all of your free time organizing; instead, choose to tidy items for ten to 15 minutes per day. And while you're tackling the task, opt to listen to music or a podcast to help the chore feel less tedious.

Unplug: Catching up on TikTok videos or searching #HairGoals on IG may be entertaining, but keeping your device out of reach when you're ready to hit the hay will help you achieve a more restful sleep. According to Cleveland Clinic, blue light emitted from the screen (mimicking daylight) disrupts your sleep pattern by suppressing melatonin—a hormone responsible for controlling sleep cycles—making it more difficult to fall asleep. Instead of scrolling through your phone right before bed, try reserving that time for jotting in a journal or practicing meditation.

Create a Gratitude List: Give thanks on a regular basis by making a gratitude list. Taking 15 minutes to record a few things that you're grateful for each day can increase positivity, reduce stress and help you feel more optimistic, notes a study conducted by Harvard Health Publishing. And spread the positivity: Write thank-you notes every now and then to those who matter.
[Image: iStock]