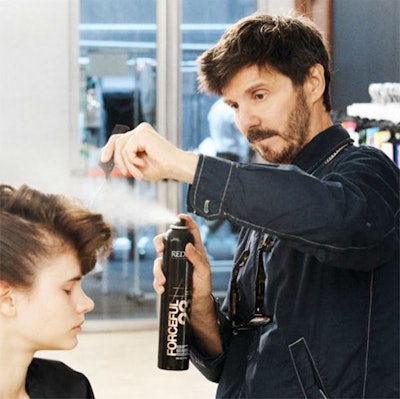 As the obsession with social media styles reaches fever pitch, industry icon Guido makes the case for including runway looks as part of your hair education.
As a handful of literal trend shapers in the world, Redken global creative director Guido is asked to forecast what will be hot in the world of hair season after season. But today, he's reticent to make a prediction. "I don't think hair trends work like that anymore; there are just so many ideas out there now," he says. "Women are savvy enough to realize what works for them and won't be dictated to these days. But, that being said, they do like to see the options out there"—which makes the job of the hairstylist more complex than ever. Keeping up with fresh techniques, knowing what's current for styling and understanding the past references that create the foundations of today's looks require a willingness to open up one's self to various streams of hair information—including the runways. "Even if you're not creating exactly what's on the runways, just having a general understanding of what's being shown at the moment is important," Guido argues. "When you work in a salon and are able to have a conversation about the season's runway looks, you establish yourself as an expert with clients—whether they choose to do a certain runway-inspired style or not."
But the catwalks aren't simply about finished hairstyles that act as kindle for inspiration; they're testing grounds for techniques. Guido asserts that backstage hair leads like himself often test original ways to layer product—or trial-run new products altogether—as well as brainstorm styling techniques and ways to better handle hair under time constrictions. "By educating yourself on what's happening on the runways, you might pick up a new way of using a product, a new method of parting hair or a new drying technique—things that you can put into practice with your clients and pass on to them," he says.
[Image: Courtesy of Redken]