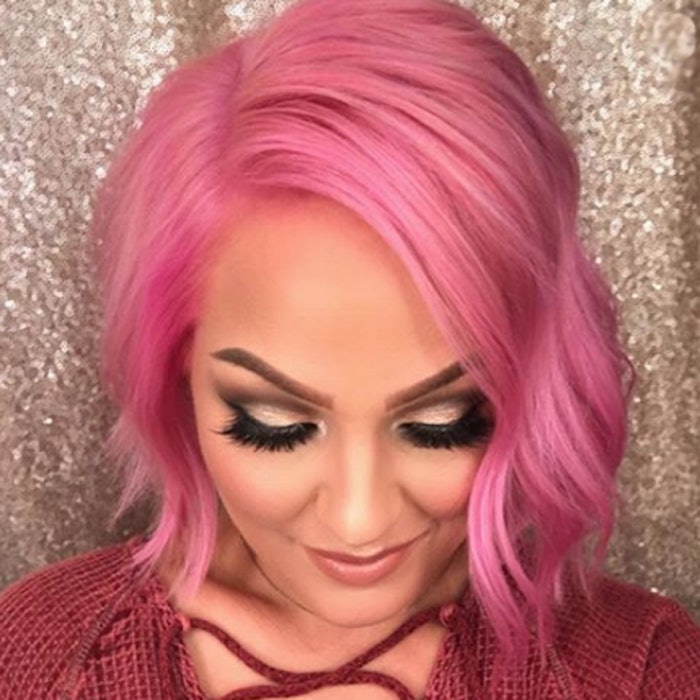 Give us an overview of the Aloxxi Instaboost: how many shades, how does it work, how long does it last, etc.
InstaBoost is a rich conditioning color masque available in 12 shades! ​InstaBoost is designed for both home and salon use, it can be applied to wet or dry hair to refresh fashion color, deepen rich shades, and enhance natural or highlighted hair! Application is simple, generously apply your desired shade(s) to damp hair for 5 minutes, comb through, rinse and style. InstaBoost is designed to last up to 10-15 washes, more frequent use will intensify color result.
Does hair have to be pre-lightened to get results?
InstaBoost will work on both natural and color treated or highlighted hair. Applications on pre-lightened hair will yield a more vibrant result.
Layered 'Pink, Please' on top of pre-lightened hair and semi-permanent color.
Can it work on darker-haired clients?
Yes! InstaBoost can be used on darker hair to add a hint of color and intense shine. 'True Blue' can be layered on hair to create the elusive "blue-black".
Can it be mixed with other shades?
You can mix ALL InstaBoost shades to create your own unique shade, 'Gloss Boss' can also be added to any shade to soften color intensity. 
What other ways could a stylist use it as an in-salon treatment or add-on service?
I love using 'Gloss Boss' as an add-on service to give the clients hair a "top coat" of shine on their fresh color. You can also use multiple shades to create a unique shade for your client that will last for 10-15 washes, like a few strands around the fringe area or face frame. InstaBoost is very simply to apply and only requires 5 minutes to work, making it an easy way to spice up your clients color. I have also used InstaBoost shades to pre-tone clients hair to support my demi-permanent color for more richness and longevity. 
Mixed shades to create a multi-tonal balayage on pre-lightened hair
What does it mean when Aloxxi says that it's products are 10-Free?
10-Free simply means that Aloxxi has removed harmful ingredients and additives from their products. Instead, your hair will be cared for by products with a botanical base that's packed with antioxidants to care for your hair, and we never test on animals!
How often should it be used to maintain color? To intensify?
Due to the cumulative effect of the product, you can manage the intensity of your color at home! Color will intensify with each use, so if you prefer a softer result you can use InstaBoost every 3-4 washes. Otherwise, you can use InstaBoost every wash until you reach your desired shade.
[Images: Courtesy of Josie Blanks-LaField; Instagram]