Reimagining elements of '80s and '90s styling anew, Dana Hodges Caschetta turns out androgynous looks that find versatility in their neutrality.
Over the centuries, men's fashion and grooming ping-ponged in extremes, at points reaching what today would be considered hyperfeminine—think: well-appointed Renaissance-era men donning powdered wigs, rouge-dappled cheeks and heeled shoes. For Dana Hodges Caschetta, hairstylist at Ammon Carver Studio in New York City, how society adapted and accepted these eccentric styles—what would today be construed as outliers— fascinates her. "As a society in general, we tend to put parameters on how things and people should look," she says, adding, "I think today, more than ever, we're breaking those limitations!" For her men's collection, which was nominated as a 2019 North American Hairstyling Awards finalist, Hodges Caschetta sought inspiration in male icons from the '80s and '90s who broke gender barriers with their iconoclastic style: George Michael, Prince, Freddie Mercury, and David Bowie. "I really wanted to tell a story of gender neutrality and true androgyny," she says, citing that such neutrality often begets versatility for styling—even if society is slow to catch on. "I also wanted to display softer looks mixed with a strong silhouette, and to utilize natural texture combined with opposing movement," Hodges Caschetta explains. "There are no rules anymore, and I truly wanted this collection to express just that."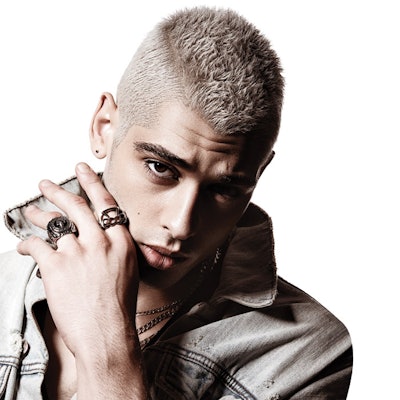 New Classic
A classic yet contemporary cut finds its edge through a high-lift blonde toned to icy platinum perfection.
RELATED: Experts Share Techniques and Tips for Managing Texture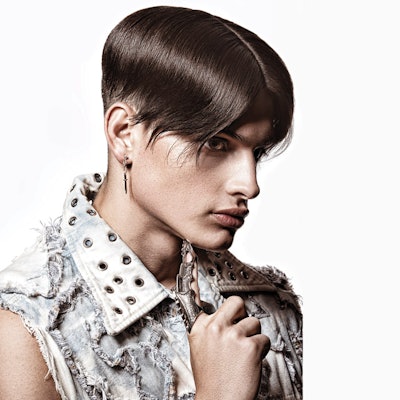 Razor's Edge
A center part with a tight silhouette gives way to ends expertly razored and tousled into seeming motion. "I used a razor to shatter the ends and create texture within an overall polished look," says Dana Hodges Caschetta, noting that Eufora Pure Polish added shine to the style's sublime curves while Eufora Hero Styling Mud lent movement to the ends.
RELATED: Whitney VerMeer Shares the How-to for Our MAN Spring Cover Look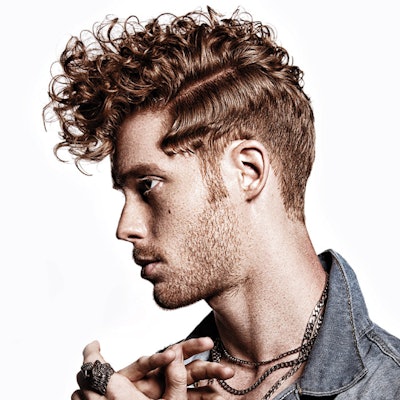 Texture Message
"Men often wore their natural texture in the late '80s and '90s, and I wanted to exaggerate this trend," notes Hodges Caschetta. Leaving the top to curl of its own volition (with the aid of Eufora Perfect Curl Activator and a diffuser), she styled the sides into contemporary finger waves to add "an element of proper styling."
[Hair: Dana Hodges Caschetta, Ammon Carver Studio, New York City; Photography: Richard Monsieurs; Makeup: Deney Adams; Wardrobe: Abel Ljoka/Santa Monroe; Models: Cameron Porras, Evan Leff and Nicholas Skidmore
This story first appeared in the Spring issue of MAN magazine. To receive the magazine, click here to subscribe.