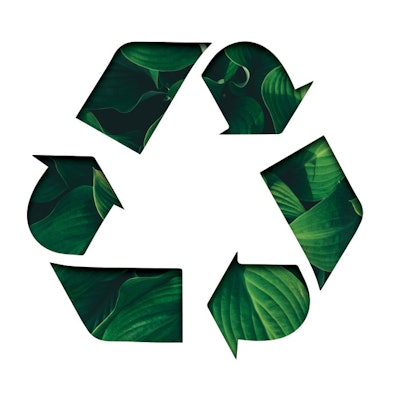 The age of information. The demand for corporate transparency. The rise of the millennial. And an increasing concern—sometimes downright paranoia—about the healthiness of what we put in (and on) our bodies. All of these cultural movements have combined to create the rise, and continued growth, of the green revolution.
A November 2018 report from Nielsen divulged that, in a recent global online survey, a full 81-percent of respondents "feel strongly that companies should help improve the environment" (a sentiment that echoed across both generations and genders). Similarly, a majority (73-percent) of consumers said "they would definitely or probably change their consumption habits to reduce their impact on the environment." But what do these concepts—eco-conscious, sustainable, green, natural, and countless other claims— truly mean in beauty's modern-day incarnation? How have practices, from ingredient sourcing to packaging technologies, evolved—and where are they headed? We check in with eco experts to define the details.
The Green (R)evolution
Green beauty is now big business, with indie start-ups and global giants alike jumping into the formulation fray, and natural products highlighted in dedicated sections of both salons and big-box retailers. According to Gay Timmons, president and founder of distributor Oh, Oh Organic in Richmond, California, the movement has been gaining serious steam since 1998, when Paul Anastas and John Warner published their "12 Design Principles of Green Chemistry" in the book Green Chemistry: Theory and Practice. "There are two levels to look at in beauty: Is it topically safe on the human body, and what is the environmental impact?" Timmons details. "For the latter, we can look at variables such as renewability, using naturally derived materials, and agricultural and manufacturing processes."
Jim Markham, founder and CEO of ColorProof Color Care Authority in Newport Beach, California, has been a green pioneer for decades, and asserts that consumer demands have indeed evolved. In years past, companies often focused on better-for-you ingredients, leading to the nearly industry-wide shunning of groups like sulfates, parabens and phthalates. But today, buyers also examine sustainability and environmental stewardship, such as recyclable bottles and paper; plastics made from post-consumer materials; and cruelty-free operations. "Not long ago, certain safer options weren't available at all, whereas now they're much more plentiful, from ingredients to packaging," Markham notes. "Today's focus on going 'clean' calls for ingredients that aren't harmful to the environment or people."
RELATED: Meet the Members of Beauty Launchpad's 2019 Education Team
Companies like ColorProof Color Care Authority are now moving toward using 100-percent recycled plastic for all bottles, a trend that is gaining traction. Ethical-products organization Ecovia Intelligence (formerly Organic Monitor) recently predicted that more companies will be using recovered ocean plastic in years to come: Last year, this move nabbed a Sustainable Packaging Award for London-based REN Clean Skincare, while conglomerates like P&G and Henkel are also using the material in product packaging.
Ingredient Inspection
Packaging isn't the only area of improvement among today's beauty businesses. The latest innovations also involve ingredient sourcing—including a focus on renewable materials, harvested with respect to both the environment and local communities. "In recent years, we've seen many new standards, covering base ingredients (sustainable oils), minerals (Responsible Mica Initiative) and ingredient types (sustainable seaweed)," Ecovia Intelligence reported last January. In 2018, the Union for Ethical BioTrade launched the Sourcing With Respect label, which identifies products made with respect to people and biodiversity.
Indeed, a host of certifications have emerged throughout the aughts to help consumers easily spot a company's dedication to greener operations. In Europe, the Cosmebio association created the COSMOS Organic and COSMOS Natural labels, which monitors for naturally sourced, organic and biodegradable ingredients, while ECOCERT organic certification organization evaluates plant-based ingredients and renewable resources, among other criteria. But while Europe looks to private entities' standards, Stateside labels like USDA Organic (developed for food but now gracing beauty products) are overseen by government agencies, which outline approved regulations and forbid methods like genetic engineering.
But it's not just federal regulation getting in on the green watchdog game—certain states are looking to up the ante, as well: For example, California created the 2005 Safe Cosmetics Act for enhanced ingredient transparency and, in late 2018, banned animal testing for cosmetics by 2020.
Though confusing at times, it's all good news for green lovers. Safer ingredients, processes, products, and labels continue to evolve at a breakneck pace to keep up with today's consumers, who are increasingly asking questions about where their purchases come from and how they're handled from start to finish. "With brands making better choices, more demand from government and organizations, and an expanding consumer group looking for companies it can trust, the professional beauty space is—and should be—working toward becoming greener as an industry," Timmons concludes.
"What was once considered cutting- edge is now simply part of the cost of doing business," Markham agrees. "The industry is just going to get more green, conscious and sustainable—not only here in the United States, but as part of a worldwide trend."
RELATED: Top Predictions and Techniques for Summer Music Festival-goers
Behind the Buzz
Cannabis sativa is—pun intended—riding high and increasingly being tapped as a go-to natural ingredient. Now its latest derivative, cannabidiol (CBD) oil, is making its way into everything from beverages to skincare to, yes, hair products. So, what's all this buzz about?
Kevin and Mare Wachs, cofounders of CBD-oil-infused haircare brand EMERA in Chatsworth, California, explain that CBD integrates naturally with the body's endocannabinoid system, helping to regulate hair loss and control dry hair and scalp conditions. With 21 known amino acids, including tyrosine, CBD also helps to maintain haircolor. "CBD is rich in vitamins, including A, B1, B2, C, D, E, magnesium, and potassium," Kevin adds. "CBD's properties, including multiple nutrients, vitamins and fatty acids, make it ideal for the formation of collagen, which can strengthen and nourish scalp tissue. The full benefits of what CBD can accomplish for hair thinning and loss are still being studied; however, its multiple properties make it a natural addition to the routine of anyone experiencing changes to their hairline." (Bonus! It's believed that CBD's essential fatty acids can also lend a fuller appearance by increasing the diameter of each hair strand.)
Coming to Terms
Eco terminology can create a minefield of misunderstandings. What do all of the labels and claims actually mean? There are no hard and fast rules, but generally, eco-friendly denotes products that have a reduced earth impact. Green has become a catchall word that may describe a variety of environmentally friendly practices, from non-harmful sourcing to recyclable packaging. The definition of clean can also vary: Clean- brand retailer Credo defines this as "safe ingredients (nothing harmful or toxic)" alongside a lengthy list of forbidden "dirty" ingredients. Sustainable relates to a product's components, from conception (e.g., sourcing renewable materials) to afterlife (recyclable packaging).
To complicate the matter, words like "natural" don't have any clear, agreed-upon definition, and not all synthetics are necessarily harmful. Additionally, various organizations, such as ECOCERT, Environmental Working Group (EWG) and Natural Products Association (NPA), have created their own seals of approval, each according to its own internal guidelines.
The lesson? "When it comes to product claims, it's buyer beware," warns Timmons. "Consumers must hold the manufacturer accountable and ask, 'What do you mean by this term?' Yes, today's world is more complicated, but we also have more accessible information than ever."
Easy Being Green
Ease your environmental impact with some of the latest green haircare formulations.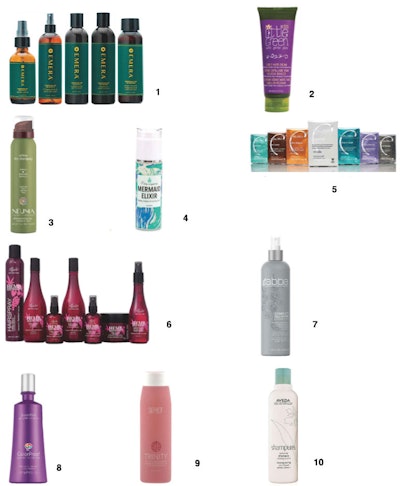 1) ​EMERA harnesses CBD oil for its product lineup that includes Nourishing CBD Shampoo, Conditioner, Detangler Plus, Serum, and Scalp therapy. 
Green cred: 100-percent organic CBD oil from sustainable, non-GMO hemp.
2) Little Green Kids Curly Hair Cream calms, defines and controls youngsters' unruly curls and waves sans crunch, stickiness or frizz.
Green cred: Hypoallergenic; allergen-, paraben-, sulfate-, and gluten-free.
3) ​Neuma reNeu dry shampoo absorbs oil with earth-derived powders like tapioca starch and rice bran, while zapping odor with natural aromas and plant extracts.
Green cred: Low-VOC; talc- and aluminum-free; no artificial fragrance.
4) ​Elina Organics Mermaid Elixir nourishes with natural peptides, hyaluronic acid and marine collagen, while azelaic acid and sea water pearls brighten the complexion.
Green cred: Organic; cruelty-free.
5) Malibu C Wellness Remedies are offered in a variety of formulas that target specific areas of concern, from minimizing the effects of hard water to alleviating flaky scalps. 
Green cred: 100-percent vegan food-grade vitamin technology.
6) The Agadir Hemp & Red Wine line features hempseed oil; patented FiberHance technology for ultimate hair strength; and resveratrol (red wine extract) to defend hair and scalp from free radicals. 
Green cred: Plant-based ingredients.
7) Lightweight ABBA Complete All-In-One Leave-In Spray detangles, improves elasticity, moisturizes, strengthens, and protects from UV rays, environmental stressors and thermal tools. 
Greed cred: Plant-derived botanicals; free of parabens, sulfates, sodium chloride, and gluten; vegan.
8) ​ColorProof Color Care Authority SuperRich Moisture Shampoo, developed for color-treated tresses, infuses lightweight moisture and gently cleanses. 
Green cred: Vegan; free of sulfates, salt, gluten, phthalates, parabens, and mineral oil; cruelty-free; upcycled and recyclable packaging.
9) Surface Hair Trinity Color Care Shampoo fights free radicals and increases color retention with moringa and babassu oils. 
Green cred: Free of sulfates, gluten, parabens, animal protein, mineral oil, and phthalates.
10) Aveda Shampure Nurturing Shampoo boasts Abyssinian oil, a natural silicone alternative for nourishment and luster. 
Green cred: Vegan; crueltyfree; 95-percent naturally derived; silicone-free; made from 100-percent postconsumer recycled bottles.
This story first appeared in the April issue of Beauty Launchpad magazine. To receive the magazine, click here to subscribe.
[Images: Courtesy of manufacturers; Getty Images]