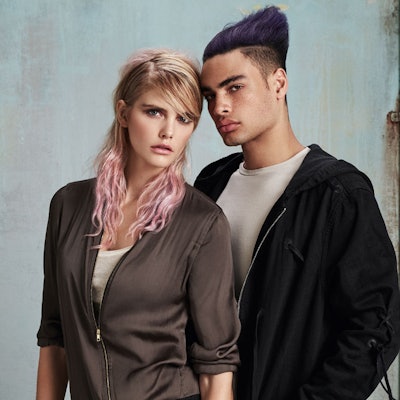 For decades, KMS has been regarded as a premiere care and styling line. Now the respected brand is throwing its hat into the color ring with STYLE COLOR, which consists of an array of temporary spray-on shades that impart vibrant hues that last until your client's next shampoo. "One of the main messages behind KMS has always been that style is a way to express yourself in addition to helping you connect with others," says the KMS global style council. "We wanted to expand on this message of self- expression by introducing color products that empower stylists to create looks for clients that are even more unique and custom to them. We're also using color to support the haircut rather than the other way around, which is how it has traditionally been." Breaking the cut and color rules in a way that captivates and excites clientele? We're all in.
RELATED: Top Colorists Reveal Their All-Time Favorite Shade Techniques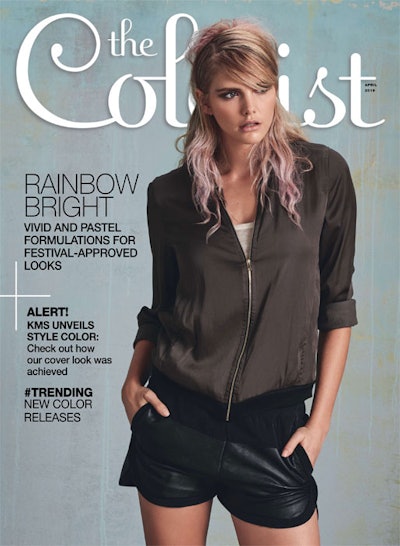 Get the Color
(*For female model)
Model's Natural Color: 8NA.
Highlights 1: 35ml. 3% Goldwell SilkLift Lotion + 1 spoon of Goldwell SilkLift Strong + 3 pumps of Goldwell Silk Lift Conditioning Serum.
Highlights 2: 30ml. 12% Goldwell Topchic Lotion + 15ml. Goldwell Topchic 11A.
Highlights 3: 40ml. Goldwell Cover Plus Lotion + 20ml. Goldwell Colorance Lowlight Level 7.
Toner: 30ml. Goldwell Elumen AB@9 + 15ml. Goldwell Elumen GB@9.
*For a pink finish, spray on KMS STYLE COLOR in Vintage Blush, which will wash out once hair is shampooed.
RELATED: Anna Cantu's Majestic Melding of Mauve-To-Violet Project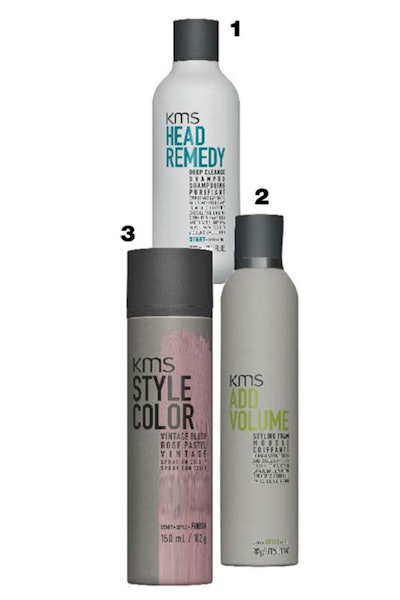 1) Clean: Head Remedy Deep Cleanse Shampoo
2) Style: Add Volume Styling Foam Mousse
3) Color: Style Color in Vintage Blush
[Top Image: Photographer: Ralph Mecke; Hair: KMS Global Style Council: Color Michael Bonadduce; Makeup: Yvonne Wengler; Wardrobe: Ingo Nahrwold] 
This story first appeared in the April issue of The Colorist magazine. To receive the magazine, click here to subscribe.