Festival-goers demand ever-more-intricate hairstyles—are you ready to deliver?
Gone are the days when easy braids and flower crowns whet the festival-goer's appetite for enviable hair. Today's beauty-obsessed music lover wants more; after all, as the festival season increasingly provides ample opportunity for social media amplification—with exclusive pop-up parties and street-style photographers as common on festival grounds as the headlining bands—attendees thrive on standing apart from the crowd. "A huge part of attending a festival is getting your look right. With celebrities and social media influencers setting high standards and creating inspiration, everyone wants to look the part," shares Shayla Jay Manning of Sass & Braids in Gold Coast, Australia. That's where you come in. "Not only are our clients investing more time and effort in their clothing to differentiate themselves at festivals, they're looking to add flair and style to their hair," says Sydney, Australia-based Linda Ha, who specializes in festival hair. "Festivals are very mainstream at the moment and there is a high demand for any service or product to help make that whole festival experience a perfect memory."
Think beyond Coachella and Lollapalooza into the realm of Electric Daisy Carnival, North Coast Music Festival, Burning Man, and even holiday in Ibiza, and the opportunity for festival-ready hair becomes a year-round moneymaker for salons—not to mention a self-fulfilling marketing boon. "Stylists profit from festival hair twofold: By finishing hair creatively, they not only get to charge for the service, but they also get to upgrade their social media feed!" says Redken artist Heather King, of Bliss Beauty Bar in St. Louis. Truly: The more festival hair creations you send off to the stadiums and fair grounds, the more captured in-the-moment photos of those creations will transpire—and sharing those images on your feed is just one part of marketing your festival beauty prowess. If you want to jump-start your visibility as a festival service provider, King, who has worked on hair for Coachella attendees, suggests partnering at local music events by providing a braid bar or hosting your own event. But, before you do that, what should you be offering for 2019? We tapped an international coterie of experts to share their top predictions and techniques for dance-all-day hair.
RELATED: Runway Report - Four Major Wet Hair Trends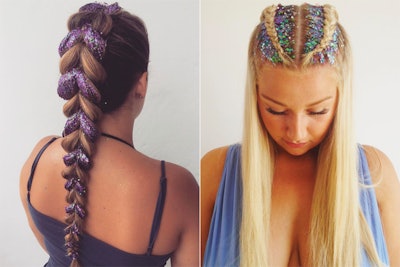 Sparkle, Baby, Sparkle
If you've searched the hashtag #festivalhair on Instagram, you've likely seen an influx of DIY glitter-shellacked styles. And while at-home sprinkling certainly gets the job done, it often looks messy and amateur. But glitter shouldn't be discounted; it's an easy add-on service for your festival menu that dresses up hairdos both simple and complex. For hairstylist Charlotte Heaney, who— when not working behind the chair in New Church House in Manchester, United Kingdom—spends her summers in Ibiza, Spain, doling out dance-ready hair for the island's vacationing clubgoers, thoughtful glitter placement has become the crowning touch to her styles. "I really do love an elegant, subtle glitter placement throughout my work; I feel like it doesn't take over the design and complements each style beautifully," she says. Heaney's glitter- flecked designs often get reposted on social media, and for good reason: The gleam of glitter perfectly follows the lines of her creations or allows certain elements, like a Dutch braid, to pop. 
Of course, free-hand glitter is just one way to sparkle strands; Jordan Pomeroy, co-owner of The Black Fox Barbershop in Naples, Florida, envisions an even bolder way to harness shimmer: stenciling. "Apply the glitter over a stencil on sleek hair. It's a whole new art form," she says.
RELATED: 5 Hot Styles Straight from the 2019 Spring/Summer Runways
Whether freeform or stenciled, knowing how to make glitter last counts when offering this service. "The best long-lasting yet easy-to-remove method is applying hair gel to the parting or section, then layering the loose glitter on the gel using a small flat brush," Heaney shares, adding that her special mix of glitter, which she calls "unicorn festival glitter," blends various types, both fine and chunky, and is made unique for each client—a smart selling point. Just be sure you're using cosmetic-grade glitter, warns festival hair specialist Marsha Baim, owner of Get Braidified in Miami. "I never use craft glitter as it's actually quite dangerous to use near the face," she says, recommending Lunautics, which also offers a line of biodegradable glitters.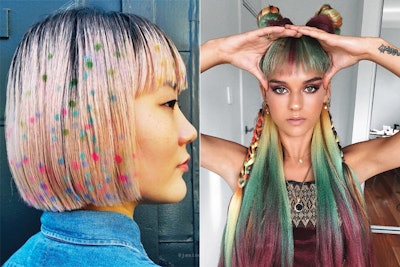 Temporary Tints
Vivid color melts will garner attention, but not all festival-goers sign up for that kind of commitment. If your client desires standout color minus a whole head of bleach and permanent dye, offer her this trend in the making: graffiti color. "It's achieved by loading diluted color into an airbrush makeup gun and 'spray painting' the hair," King says. Or, ombré mid-lengths and ends with temporary color sprays for a one-day-only tint. But a word of warning: Sweating is inevitable at most festivals—and temporary color can suffer. To beat the heat yet still bolster bold color, use vivid extensions. "They're a fantastic way for color expression without the concern of staining clients' hair and clothes," says Pomeroy. Not to mention, color extensions give clients a lot of what they don't have naturally, says Baim. "Besides adding color without having to use bleach, they also allow me to create the desired length and fullness for each style," she explains.
PHOTOS: COLLECTIV Art Team's Just Hair Compilation
As for color combinations, the sky's the limit, but Ha suggests having a consultation with your client to determine the look and feel. "I always ask clients what they're planning to wear, and then find complementary colors to suit that," she says. However, there is a science to weaving colors together—color theory definitely plays a part. "The shades and tones of colors are key when creating the overall color scheme," says Baim. "You can't just throw a bunch of primary colors in with a tertiary color and hope that it works. You have to be a bit thoughtful as to how the whole color scheme will look together, or at least have a way to tie in that tertiary color with an accessory at the end." She offers this tip: Pick your colors and, if a bold or neutral shade sticks out from the overall color scheme, add ombré yarn, cord or an accessory that matches that color; it will unite the whole look.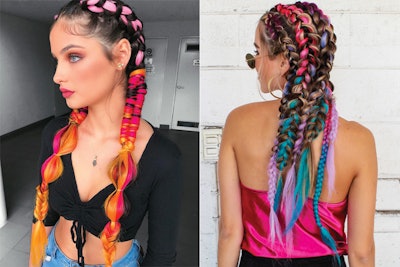 Weave Believers
The braid remains a festival staple, but it definitely morphs season to season. At minimum, you should have a handle on creating braided crowns and Dutch braids. But if you're looking to set your services apart, Pomeroy points to infinity and zipper braids as the next big plaits. Baim agrees, and adds that another huge trend will be "styles that incorporate a ton of individual braids at the bottom." She and Ha also see the flipside of this trend gaining traction: braids at the top that unravel into loose, flowing tips. "We've been creating this style for awhile, but it keeps evolving and our girls are loving the loose and somewhat messy look that it lends," says Baim. 
Just Add Accessories
Flowers, gold chains, hair cuffs: An endless array of accessories awaits for your mane manipulation. But, rather than work with the expected, why not dip into what's next? "The '90s and aughts are back, and with it comes butterfly clips, snap clips and scrunchies," says King, noting that with this hot trend less will definitely be more for the festival circuit.
If your clients seek simple statement makers, Ha sees hair clips with words and phrases as a new form of beauty expression, as well as bandanas and headscarves wrapped creatively. Yarn and chord stitched into braids rank high for Baim, who also believes any accessory that adds a glowing neon effect will make its way onto heads. No matter what, don't limit yourself; search the #festivalhair hashtag on Instagram for creative stimulus and take a trip to your local craft store for IRL inspo.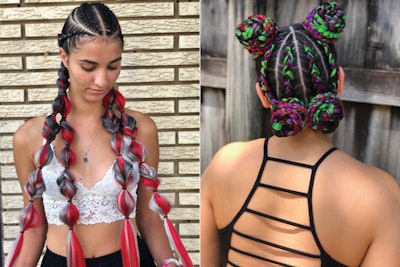 Spin-Worthy Styles
Baller braids, space buns, fireball braids: The terminology for raver-esque styles can make your head spin. Here, Baim shares her best secrets for nailing the looks.
Baller Braids and Fireball Braids: To create the desired "poof" factor in the balls, make sure to add a decent amount of hair extensions. Don't force too much volume in the balls—this creates a messier look that "deflates" quickly.
Space Buns: Create both buns at the same time. Otherwise, they can lack symmetry. Do each step of the bun one by one on each side—i.e. a full twist of the bun on the left, then do the exact same thing on the right side.
Many festivals are multiday affairs, and sometimes a shower is out of the question. How, then, do you create hair that lasts the long haul?
Think Security: "Many of my wrapped designs with crocheted cord or yarn around the braids came about because they provided a fail-proof way of keeping my clients' braids in place—even when head-banging to heavy bass all weekend!" laughs Baim. If a full-head lock-down doesn't make sense for the style or client, at the very least make sure the top of the style near the crown is doubly secure because it features prominently from the start of the festival to the final sundown, notes Pomeroy.
Think Removal: You can also create a multiday "look book" for your client by walking her through how to transition her style by taking away details. "Do a fully braided and accessorized look for Day 1; then on Day 2 she can remove a few elements, such as un-braiding a little and taking off some accessories. By Day 3, she can remove all of the braids for a curly look with light accessories," says Ha.
Think Maintenance: And because dirt and sweat come with the territory, you'll want to consider their effect on the style. "It's important to remember that less is more with products when wanting to transition," says King, who recommends using lightweight, buildable and pliable products when creating your design. Retail clients festival hair survival kits that include travel sizes of dry shampoo and texture spray for daily maintenance (see page 40 for suggestions on what to include). And for an extra refresh, King suggests that clients bring a travel-size spray bottle filled with a mix of lavender and peppermint essential oils and water. "It's a great way to keep hair smelling fresh without adding product buildup," she says.
Become a Festival Headliner
New to the festival hair scene? No worries: Here's how to spread the word.
Do Your Homework: "Find out the festival's schedule, location, overall style vibe, and lineup. This prepares you for the clients you're about to book," says Manning, adding that knowing dates allows you time to pre-order glitter, extensions, scarves, hair rings, and whatever else you might need to have on hand.
Build a Portfolio: "I use a lot of my free time to find models or enlist friends to style and do mini shoots," says Pomeroy. Manning adds that you should be creating and posting festival-centric content—and tagging your chosen festival —in the lead-up to the event to draw even more eyes.
Network: "Engage with social media channels and find people who live for festivals. Then, collaborate with them and showcase your work to your and their audiences," says Ha, adding, "You'll find yourself building rapport with members of the festival community and working with them more."
This story first appeared in the April issue of Beauty Launchpad magazine. To receive the magazine, click here to subscribe.
[Images: Courtesy of Charl Heaney; Janine Ker; Linda Ha; Jordan Pomeroy; Marsha Baim; Instagram]