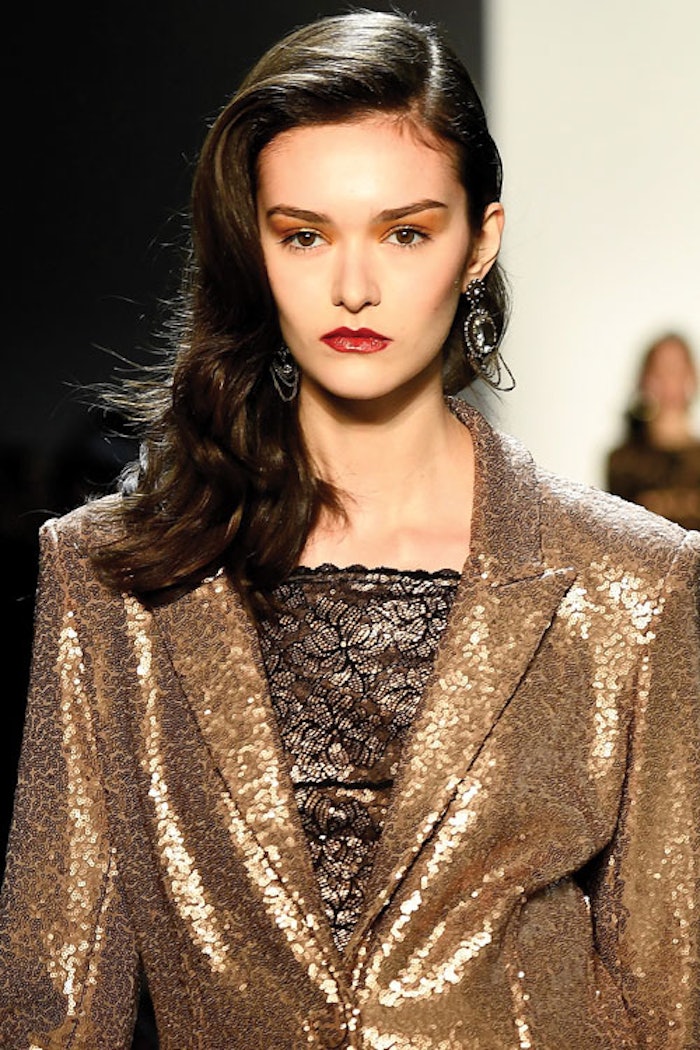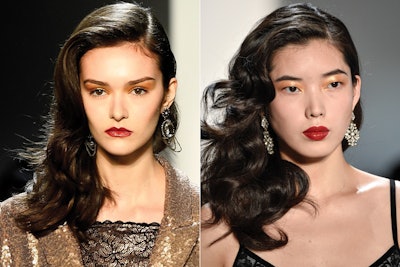 When sweeping gowns and sequin-bedazzled pantsuits comprise a collection, the designer definitely is angling to dress a woman with red-carpet aspirations. For Tadashi Shoji, already a darling amongst A-listers with awards season on their minds, this is certainly the case—and only a beautifully coiffed head of hair can complete his Hollywood vision. For that, hair lead Kevin Ryan, who's using RSession Pro Tools and UNITE, fashions relaxed screen-siren ("but not cheesy!") waves that swoop and cascade gorgeously down the right side of the head. "Tadashi actually referenced film noir for his collection's inspiration," says Ryan. "He always has a strong woman in mind, so we wanted to create a hairstyle with a little bit of glam going on, but that has an edge to it and shows strength."
RELATED: Free Launch Giveaway - February 2019
To capture this "edge," he's careful to avoid perfection by commingling two RSession Pro double-barrel irons, the Nalu Waver and Tidal Waver. "Regular irons can be very cookie- cutter. These two irons allow for more play in the types of waves—they're not so uniform—as well as gives the hairstylist more space to create interesting looks," notes Ryan, adding that it's not about the iron size, but rather the random sizes of the sections he's curling. "We also want this nice lift at the front," he says, pointing to the wave that crests above the model's forehead. For this, Ryan cocktails UNITE Boosta Volumizing Spray and Expanda Volume Root Energizer and blow-dries the section high to the sky—a height that will command attention on the runway, on the red carpet or at any event where standard glam need not apply.
Backstage 411
The Inspiration: Power-driven film noir screen sirens.
Hero Products: RSession Pro Tools Nalu Waver and Tidal Waver whorl hair into perfectly imperfect waves.
This story first appeared in the February issue of Beauty Launchpad magazine. To receive the magazine, click here to subscribe.
[Images: Getty Images]