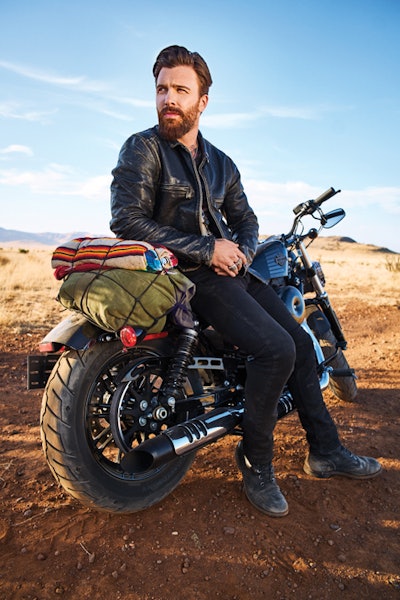 What's more American than apple pie or baseball? Harley-Davidson, and it's way cooler too. And when you combine the heritage and attitude of the iconic motorcycle brand with the suave sophistication of American Crew, you know you have a match made in heaven.
David Raccuglia, founder of American Crew, spearheaded the collaboration to celebrate both American Crew's upcoming 25th anniversary as well as Harley-Davidson's 115th. The resulting campaign is Style for the Road, which was photographed in Marfa, Texas, and features dusty, open roads that stretch out to the horizon and invite the ruggedly groomed American Crew man to explore them. "It's actually really hard to find long, open stretches of road like the ones we shot on," explains Arthur "Buzz" Verucchi, national key account manager for American Crew.
RELATED: American Crew Tips - Low Taper Men's Haircut
RELATED: American Crew Styles Emerging Artist on Journey to Graceland
To keep him looking his best, the model was prepped with American Crew 3-in-1 Hair & Body, a shampoo, conditioner and body wash, then styled with Fiber, which offers high hold and soft shine. And his beard wasn't neglected either: American Crew Beard Serum is imbued with beneficial oils that condition and keep his scruff looking well groomed. Ride on!
[Images: Courtesy of American Crew]