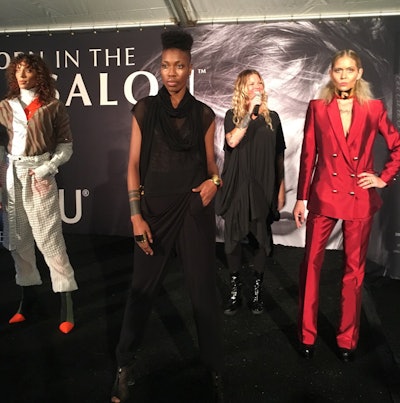 A little rain wasn't going to stop hundreds of beauty professionals from attending ECRU New York's Academy Grand Opening earlier today. As promised, it was a blowout bash to go down in the books. Not only was there a massive spread to nosh on and flowing cocktails, guests were also given an in-depth tour of the Fair Lawn, NJ, Academy and were treated to model presentations throughout the night that demoed what they can expect to learn in the academy's vast curriculum. 
As they arrived, guests were greeted with a welcome champagne flute before they were whisked off to the Academy's Creative Studio, where hands-on classes such as The Razor'd Edge, Texture Exposed and The Architecture of Haircutting will be taught by global director of education Amanda Jenkins and creative director Lisa Lobosco. "At ECRU we're about the entire head-to-toe look, which will be incorporated in everything that we do at the Academy,so that's really exciting!" says Lobosco. In addition to learning the foundations of haircutting and various techniques, in these classes students will also gain knowledge about how they can better communicate with clients and build trust. "I'm excited about meeting new hairdressers and teaching them new techniques and creating a culture!" says Jenkins.
Next, guests were led into The Lab, where a model wearing Flying Solo duds sat on a pedestal giving them some perspective on ERCU New York's behind-the-scenes work. Traditionally, The Lab will hold business education classes, such as The Artistry and Business of Hairdressing, which will help them to up their game with branding and marketing. 
As guests entered the Media Room, they were immersed into a live photo shoot for the Academy's 2019 campaign. Here they caught a glimpse of Lobosco and Jenkins at work and were able to get a first-hand look of how a Photo Conception class might be structured. In these classes, students will learn about photo-ready hair, storyboarding, social media content, and product and video shoots. "Not only is it important to learn how to work on set, it's also important for hairdressers to learn how to photograph their work because it allows them to see how they're growing," says Jenkins.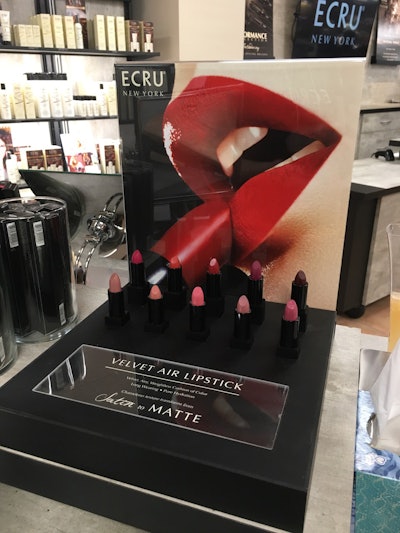 Last but not least, guests were guided into ECRU New York's Beauty Market, which shows prospective students how they can maximize a merchandising display and set up promotional spaces to bring in additional income. Ultimately, it's about learning how they can engage everyday clients.
With affordable classes and a 14-student maximum, there's no doubt that classes at ECRU will offer students an intimate, personal experience. "We want to uplift the industry and we really want to make hairdressers better," says Jenkins. "No matter what level you're at, we have a class that will adhere to you."