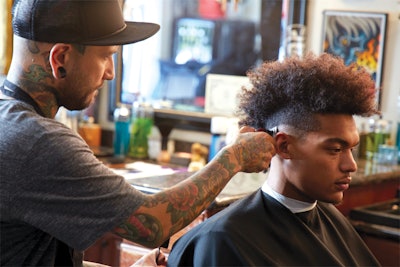 To celebrate the launch of MVRCK, several of L.A.'s best barbers joined forces to create a cover collection that honors the art and craft of traditional barbering while pushing boundaries forward.
Downtown Los Angeles is in the middle of a rebirth. Beautiful deco buildings that had been boarded up for years are being renovated and improved. Elegant Depression-era movie theaters that had been demoted to flea markets are being painstakingly restored. All while new construction aims at at appealing to the younger set looking for modern amenities immersed within a vintage setting. You could argue that this is also the idea at the core of MVRCK, the new barbering line from Paul Mitchell—traditional artistry meets contemporary goals. The launch, which includes styling, beard and shave products, was created with the help of top barbers, who also crafted a collection of images that speaks to the brand's versatility. 
RELATED: Paul Mitchell Unveils MVRCK Barbering by MITCH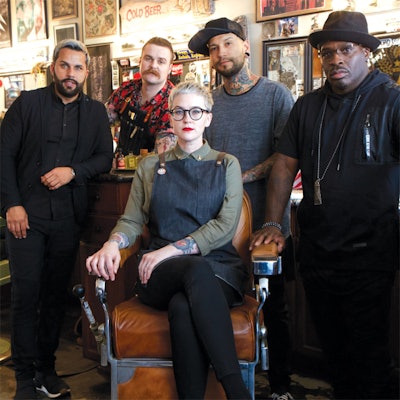 "The biggest thing we wanted to convey in the shoots was the authenticity and community that is created in the barbering culture," says Brandon Palmer, MVRCK Barber. "Every artist has their own individual style and personality, and we wanted to make sure we conveyed that, because originality is what's at the heart of barbering."
Fern Andong crafted our cover look. Using clippers and guards to fade and blend the hairline, he then created a unique three bar design using a trimmer and straight razor. He lined up the edges with a straight razor and MVRCK Blade Slip, then finished with Dry Paste and Cooling Aftershave.
RELATED: ​Britpop Inspired Hairstyles from Celebrity Stylist Gareth West
So what sets this collection apart from Mitch, the other men's focused range of products? Well, in addition to including skincare and beard-care products, there's the edge that MVRCK offers. "MVRCK is like Mitch's gritty, urban, tatted-up cousin," laughs Corey Bakon. Michael Stout agrees, saying, "Mitch was dipping the toe in men's hair care. MVRCK is a perfect 10 from the high dive, baby!"
[Image: Creative Director: Lucie Doughty; Hair: MVRCK Barbering Team; Photographer: Gil Pereda; Styling: Fabrice Guyo]