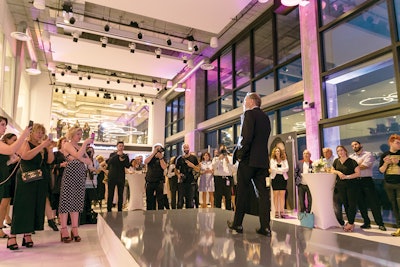 In June, Henkel Beauty Care celebrated the opening of its brand-new educational facility in Culver City, California, bringing seven hair care brands together in one innovative arena: Alterna, Joico, Kenra Professional, #mydentity, Pravana, Schwarzkopf Professional and Sexy Hair. Complete with a view of the Los Angeles skyline and a slew of futuristic touches, the space boasts two training areas, the Digital Trend Lab and a Test Salon. "We have a uniquely designed space that is digitally brandable with the touch of a button, so all brands can set their own atmosphere," explains James Jordan, associate brand manager, care and styling. "Brands can use the space for everything: internal meetings and trainings, product launches, HD seminars, Facebook Live events, photo shoots and product testing."
Main Academy
At 3,200 square feet, this Pacific-facing space accommodates 175 people for shows and meetings, while 20 movable styling stations facilitate model workshops. Other features include 60 tripods for blow-drying, five shampoo bowls, a state-of-the-art AV system, lighting designed specifically for stylist training, overhead camera projection for demos, and a 16-by-9-foot LED screen.
RELATED: How to Counsel Clients Through a Radical Cut or Color Change
Academy 2
Perfect for cutting and styling seminars, this area overlooking the main academy holds 12 attendees with tripods and mannequin heads. Meanwhile, a Microsoft Surface Hub creates a highly interactive training environment.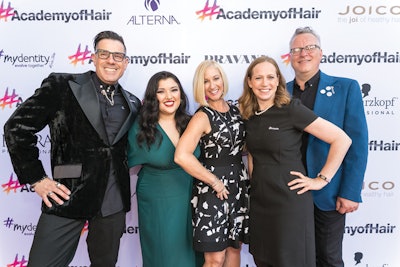 Digital Trend Lab
This space was designed as a soundproof recording studio—ideal for shooting step- by-steps, before-and-afters, interviews, and Facebook Live broadcasts. "A working styling station, color bar and shampoo bowl mimic the salon environment," Jordan adds. "Changeable backdrops and background monitors for on-film graphics make this an advanced content production suite."
RELATED: Hair Color How-To - Peaches and Cream
Test Salon
With six styling stations and two shampoo bowls, Jordan hails this as "the jewel of the academy." High-tech lighting controls allow for dialing up the lumens to assist in accurate hair color analysis; and in true sci-fi fashion, the space can be made private for secret product testing with one touch—electrolyzed xenon gas makes the glass walls instantly opaque. In-room artwork (a collaboration of Henkel's R&D team) shows the spectrometer reading of top-selling shades. "We have various nods to hair color theory, like underlying pigments and levels of lift, rounding out the design," Jordan notes. "We foresee that the academy will continue to be a place for hairdressers to share and experience innovation and inspiration from our brands, all under one roof!"
[Images: Courtesy of Pretty Instant]