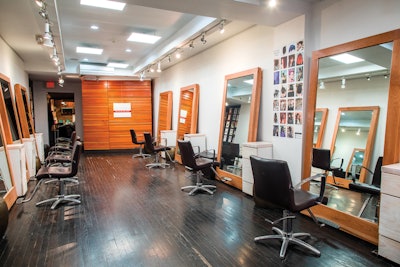 Ayn Rand's The Fountainhead, a novel about an architect who refuses to conform to society's stagnant rules, is stylist Alexey Kats' favorite book. That's fitting, as the Philadelphia salon he co-owns with fellow hairdresser Pawel Jan Gorzelewski was previously subleased from a local architect. Open since October 2012, the original salon spanned 1,500 square feet; after the architect moved, Kats and Gorzelewski expanded their fittingly dubbed Architeqt Salon and Gallery to 2,500 square feet. (A second sister salon opened across town in 2014.)
RELATED: Blue Hues Are Poised to Take Over Your Color Station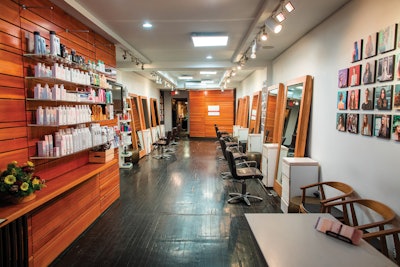 The shop is, first and foremost, a mecca for tresses. "We specialize in dry cutting, balayage, keratin treatments and hair extensions," Kats informs. He attended Philadelphia's Empire Beauty School before apprenticing for 12 years with mentor Artur Kirsh at the renowned stylist's eponymous downtown salon. "Working for someone else had its ups and downs, but it was the best way to learn the craft and business behind it," Kats discloses. Time spent as a platform educator for companies including Goldwell, Sahag, and his own venture, Fountainhead Beauty, soon followed— entrepreneurship felt like the next logical step.
PHOTOS: 2018 North American TrendVision Finalists Announced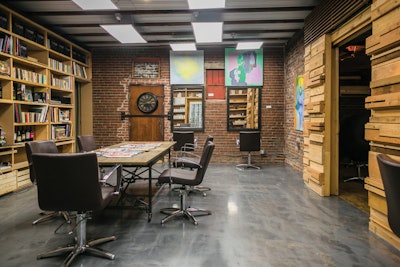 From the start, and perhaps unsurprisingly, both owners wanted Architeqt to be about more than hair. The salon functions simultaneously as a gallery and event space that hosts trunk shows, fashion shoots, classes, live-streamed hair seminars, pop-up shops and gallery openings. "Our furniture and wall mirrors are on wheels, so we can quickly clear the floor before a function," Kats explains. Art produced by local creators rotates on a quarterly basis, keeping the vibe funky and fresh. And education is honored: "We recently teamed up with a boutique medical practice to host a doctor who spoke about internal hair health, while we supplemented with external best-care tips," Kats shares.
Employee Education: Weekly Tuesday in-house classes led by outside educators or senior staff; half of tuition costs covered for stylists wishing to pursue additional ongoing education.
Client Perks: Complimentary treatments, such as L'Oréal Professionel Powermix, after a color service. Free neck trims to keep short styles chic.
Best-Selling Product: L'Oréal Professionel Next Day Hair Dry Finishing Spray 
[Images: Courtesy of Architeqt Salon and Gallery]