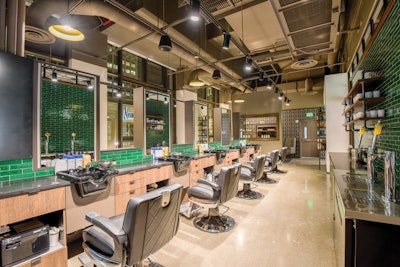 The downtown Bellevue area in Washington has mushroomed in recent years with glass and steel dominating the skyline, and it's also home to the newest Gene Juarez Salon & Spa location. "The relocation was the opportunity we wanted to update and re-energize the 46-year-old Gene Juarez brand so we can grab the attention of millennials without alienating our established clientele," says Scott Missad, CEO of Gene Juarez. "It was the ideal location to create a New York loft-style salon in a North Pacific state."
Gene Juarez construction manager Susie Burrows worked in partnership with salon and spa furnishings manufacturer and design firm Kaemark to design and oversee the building of the breathtaking new salon. Situated on the third floor with its own entrance and lift, the salon stretches across nearly 17,000 square feet. It boasts 50 styling stations in the main area, with another 10 in Gene Juarez Men, which has its own entrance and lobby, and offers a more masculine take on the industrial loft with big barber chairs and high-polish tiling. The spa area consists of six pedicure stations, 10 tranquil beauty rooms and multiple manicure stations, all intimate and luxurious through strategically placed long, semitransparent curtains and glass sectioning.
RELATED: Free Launch Giveaway - May 2018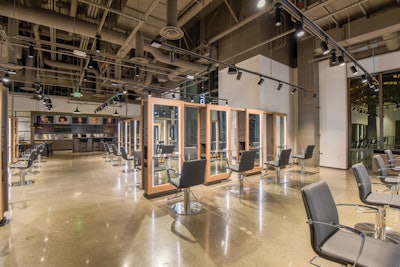 The vast styling area features individually lit mirror units along with customized chairs. "We are very constrained by energy codes in Washington and I couldn't have as much lighting as I'd have liked, so the individually lit mirrors are essential," explains Burrows. "I've also made use of all the natural light that floods into the salon through large windows."
A unique feature of the salon is the shampoo oasis, designed as a decompression zone with its tiled floor, strategic sectioning, low lighting and separate music feed. The color area alongside the styling floor offers an immediate contrast with the jewel-toned chairs and fun patterns that transform the space into an inviting sanctuary for clients.
RELATED: Up Your Hair Painting Game With Expert Balayage Techniques
– by Su Clark
[Images: Courtesy of Gene Jaurez Salon & Spa]