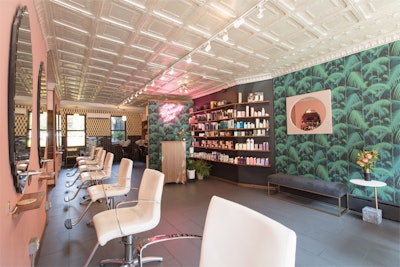 Containers used to manufacture beauty products and personal care items add up to 30 percent of all landfill waste, according to the Environmental Protection Agency. What's more, North American salons dump 412,206 pounds of hair, foils, color tubes, aerosols, excess color and plastic into landfills and waterways every day, says Green Circle Salons, a Canadian group committed to cleaning up our industry. But salons also have the means by which to combat contamination and affect real change. In time for Earth Month, we break down the basics of how stylists can implement initiatives that promote sustainability for green beauty we can all feel good about.
Assess Your Current Situation
From discarded packaging and tossed hair clippings to chemicals poured down drains and electronics that never get unplugged, salons generate large amounts of junk. Step one is to take stock. "Reassess your carbon footprint," encourages Amber Lopez, owner of Midori Organic Salon and Spa in Largo, FL. "You can become eco-conscious without executing a ground-up renovation." "Midori," the Japanese word for "green," suits this shop that recycles 95 percent of its refuse via simple, straightforward procedures.
"Initial concerns should include responsible management of recycling versus trash, conscientious water use, and support for companies and products whose sustainability interests align with yours," adds Melissa Soon, owner of New York's Soon Beauty Lab, with three green locations in Brooklyn and Manhattan. Still at a loss for how to start? Don't fret; companies like Green Circle Salons will visit your business to provide tips and train teams for free.
Prepare to Implement Your Plan
Time and money are top factors to consider before launching into action. Although there's no moment like the present, remember that new habits need to be eased into. "Putting into place a completely novel system of environmentally safe practices can be an adjustment, so you may not want to start the overhaul during busy holiday seasons," advises Michelle Potvin, owner of Fringe, A Boutique Salon & Spa in Lombard, IL.
RELATED: Aveda Launches 2018 Earth Month Campaign
Furthermore, get a grip on finances. "To put it bluntly, going green isn't cheap," laughs Leah Miller, co-owner of Rust & Ruby Salon and Barber in Evansville, IN. "Be prepared to pony up for items including energy- efficient light bulbs and water-saving heads for shampoo bowls, but rest assured that in the long run, bills will reflect those savings." Equally important to examine are ways to pay for extra eco services and explain such costs to guests.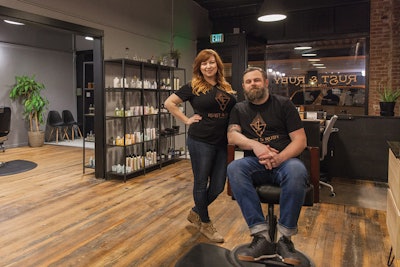 Go Green or Go Home
Rethink Rubbish - "We don't have garbage cans on our shop floor," Miller informs. Instead, discards get sorted into receptacles for paper, plastic/aluminum (including foils) and hair. Eliminating trash bins (apart from those for food and bathroom waste) brings to light how much is often tossed that could be recycled.
Hair Care - "It's an astounding truth that decomposing hair releases gases comparable to the exhaust produced by cars," Lopez laments. Essentially, hair in landfills mummifies, contributing to 18 percent of total U.S. methane emissions.
Instead of sweeping snipped strands into a plastic sack, try partnering with Green Circle Salons. Their trucks pick up tresses within 24 hours of being called, or stylists can send clippings via the company's "hair mail" program. Roughly three tons of hair are boxed and sent to a Chicago warehouse every month, where they're converted into hair booms—or stockings stuffed with strands. When oil spills occur, like the BP Gulf of Mexico disaster in 2010, these booms are a boon. The hair's ability to soak up oil makes packed pantyhose the perfect cleanup agents.
Color Correction - Green Circle Salons likewise collect unused color. Rather than dumping dyes down drains where they can leech into water tables and cause contamination, hairdressers are encouraged to scrape unneeded product into color bar containers lined with thick plastic—and be Spartan-minded when first mixing formulas! Ammonia, bleach and perm solutions are shipped to facilities for repurposing into clean energy.
PHOTOS: Celebrate Earth Day with Eco-Friendly Salons and Spas in LA
Partners in Kind - Join forces with makers of products that don't harm staff, clients or the planet. Boxes, tubes and bottles coated in plastic or other nonrecyclables are easy offenders from which to steer clear. "I spent a lot of time researching companies before committing to a partnership because I want my offerings to come from groups that maintain my mission and mentality," shares Lopez. There are many to choose from, including Australia's Kevin.Murphy, which uses ecologically sound wild-harvesting techniques. "Their focus on environmental responsibility is a standout trait," says Soon. Or Natulique Certified Organic Beauty, a brand dedicated to zero forestry impact that boasts packages made of "rock paper," aka renewable limestone, rather than trees.
Design Decisions - When sprucing your space, select recycled cabinetry, zero-VOC paint and eco-friendly decor. At Midori, accent walls are made from crushed shells, sand and rocks, while fabric on the pedicure couch is derived from plastic bottles. Such creative endeavors make a big splash, but efforts need not be enormous to have impact. "We're deliberate about our tools, opting for wood brushes in lieu of plastic," says Miller. Ceramic mugs for hot drinks plus water served in glassware cut back on nonrecyclable Styrofoam cups and bottles. "We also switched from plastic to metal coffee stirrers that get washed and reused," Potvin says. Nix bathroom paper towels in favor of hand cloths collected in cute bins, and clean with nontoxic disinfectants.
Unplug - Tools and equipment left plugged in suck power continuously. "Amounts are minimal, but this phantom-energy draw is unsustainable," points out Lopez. Appoint a salon steward who can put to bed all electronics at the end of every day—ditto for printers. Phone apps now provide advanced calendaring capabilities that are a smart alternative to daily printed schedules, while online booking software programs can email receipts or text reminders.
Power in Numbers - Recruit clients and staff to help you fight the war on waste. "We collect hard-to-recycle items like batteries and old tools, and offer customers a discount if they bring such swag to our shop on Earth Day," says Miller. Reserve the best spot in your parking lot for an electric vehicle, or reward those who ride bikes with service incentives. Swap stuffy rooms for the great outdoors by holding your next employee meeting at a local park. Notes Lopez, "It's a fun way to enjoy the environment while brainstorming additional green initiatives."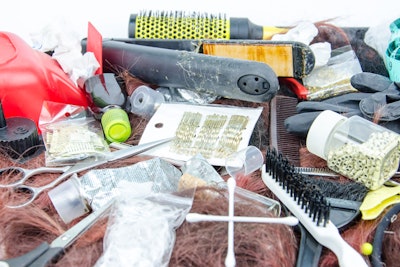 Create Public Awareness
"Whether through social media posts, signage at our front desk, or the seal on our store window, we proudly boast our eco-friendly status," Miller reveals. That's important, because earth awareness is contagious. "After going green, contact local papers and news stations," suggests Lopez. "Media can help share your great green stories." Hit up partner companies for press releases, and ask local recycling offices for literature that doubles as a shelf-talker. "We videoed our team bagging up recycling to showcase the enormity of what otherwise would have been trashed," says Potvin. "Our staff is excited to relay such efforts to guests, letting them know they're part of something larger."
Transparency is likewise key for salon owners who choose to offset (rather than absorb) added costs by baking a small eco fee into each service ticket. "We're very upfront about our eco charge," Miller discloses. "To date, I've never had a single customer complain." After all, we're in this together—achieving global stability starts by forging sustainable communities.
[Images: Top: courtesy of Soon Beauty Lab; middle: courtesy of Rust & Ruby Salon and Beauty; bottom: Getty Images]