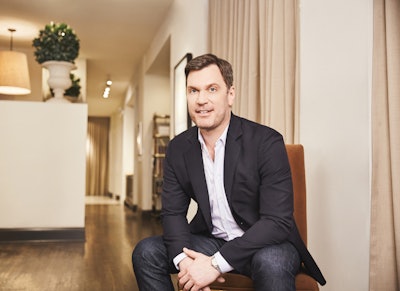 He's known as the stylist for Chicago's elite, but Dennis Bartolomei came from humble beginnings. Born into a family of hairdressers in the south suburbs of the Windy City, by age 14 the novice was already snipping hair for his friends.
"I don't know how good those cuts were, but for some reason kids kept coming back for more," Bartolomei laughs. The practice served him well: Before cosmetology school, he already knew how to do perms along with other looks that were hot in the early '80s. After graduating from Capri Beauty College in Oak Forest, IL, Bartolomei trained with iconic hairdressers and rose quickly through the ranks. Mentors like Paul Glick and Chuck Principe helped inform his signature approach, which combines premium tress care with simple classic shapes.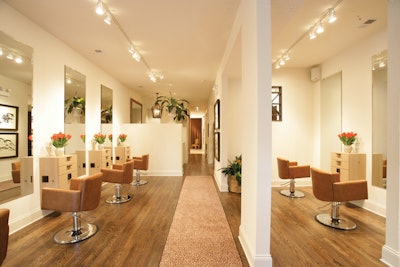 That dichotomy is likewise palpable in the vibe of his eponymous 2,300-square-foot salon, which opened in 2007. "I wanted the space to convey certain grandeur, letting clients know they're somewhere special and exclusive," Bartolomei reveals. "Yet it simultaneously needed to feel intimate and homey." Using meticulously saved funds (read: no investors), the entrepreneur bought a 1920s greystone building that had for years sat empty. An architect supervised the gut renovation and layout design, but Bartolomei conceived all interior decor aspects, from color schemes to finishes, on his own. "I had previously refurbished model rental homes in Michigan, so I had that experience," he says.
RELATED: Q&A with Cliff VMir on Working With Cardi B and Why He Became a Hairstylist
Guests enter through 10-foot paneled doors into a reception area with ceilings soaring to 12 feet. They sit in butterscotch-colored chairs custom designed by Collins Manufacturing, according to Bartolomei's specifications. Hardwood floors and bronze hardware further infuse warmth. "Even when the cutting floor grows frenetic, the cozy ambiance makes it feel like you're in a friend's apartment," muses the stylist. 24-carat fixtures, embossed wallpaper and gilded mirrors in the bathroom make this home a very nice one. The family that lives here is comprised of carefully handpicked stylists. For the first six months, Bartolomei worked alone with one assistant and a receptionist while he mapped out the plan for how his team should function. "I was thoughtful about bringing people to join me," he reflects. Today his stellar crew includes social media consultant Erica Eckman, who's helping usher Dennis Bartolomei Salon into the future with an impressive following of more than 25,000  Instagram fans so the studio remains both timeless and timely.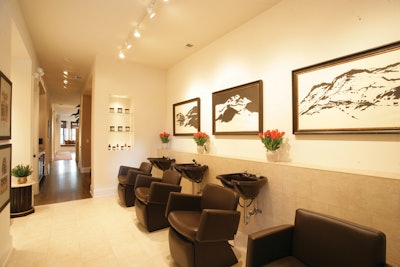 RELATED: Q&A with George Papanikolas, Celebrity Stylist for Matrix
Theme: 
Grandeur in a homey setting.
Salon Mission:
"Everyone leaves happy": The manager personally calls all new clients after their first visit to follow up on satisfaction levels.
Employee Education:
Two-tiered program lets assistants gain theoretical knowledge at Thursday lectures led by Bartolomei, followed by practical floor experience working on models while being mentored by peers. Instagram training is mandatory for all stylists.
Client Perks:
Customers get $25 off for every new client referred and a $100 gift card for sending in 10 new clients.
Best-Selling Retail Products:
Olaplex Hair Perfector No. 3 and Iles Formula Haute Performance Finishing Serum.
Hottest Spring Trends: 
Full hair fringe, dimensional brown-on-brown brunettes and warm honey blondes. Silver is here to stay.
[Images: Courtesy of Michael Roberts]