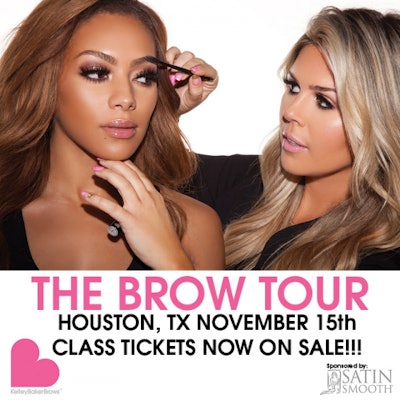 Tickets are on sale now for Kelley Baker's Brow Education Tour being held next in Houston, Texas on November 15, 2015.
Kelley Baker, an award winning arch and celebrity makeup artist, is traveling to Houston, Texas as the next stop on her Brow Education Tour. The brow
education class is being held November 15 from 1:00 to 4:00 PM. at the J.W. Marriott on Westheimer Road in Houston. The class is great for professionals looking to learn and strengthen their skill-set as well as brow enthusiasts who just want to learn how to master their own brows DIY style.
Those attending will have the ability to witness Baker perform step-by-step brow shaping demos using select attendees as models. Baker will teach the same foundational skills she has become known for in assessing and executing flawless eyebrows. She will touch on all of the basics from learning the best shape for an individual's face to exclusive insider tricks such as creating an arch and disguising imperfections.
Baker's proprietary waxing, tweezing, trimming and filling technique is highly sought after by industry professionals worldwide. She believes in empowering women and for years has been teaching live master classes in the beauty industry trade show circuit. Now, by popular demand, Baker travels the country teaching brow shaping master classes empowering women in the brow business to build their own success.
Visit KelleyBakerBrows.com for more information or to purchase tickets.
[Image courtesy of Kelley Baker Brows]