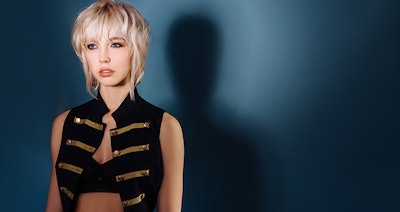 I don't really like writing about trends, it's so subjective and social media has really stalled the evolution of trends because the public is in charge of the fashion trends rather than the days when the fashion magazine editors were pushing new ideas with every season. With that said, there are some common threads among hair cuts and styles that I've noticed, so I thought I'd share…
Bangs and Fringe and Fringe and Bangs - All lengths, shapes, sizes and angles are growing in popularity at the moment. From 70's inspired low hanging fringe that looks like you just rolled out of bed to super precise baby bangs…we're seeing a huge shift towards taking the front off in modern shapes.
The "I do my own haircuts" Look - Highly inspired by the "I don't want to look like I try to hard" youth movement, haircuts that look grown in and well worn are making their way back into the main stream. Crosschecking…what's that? Blending…hmmm…never heard of it. What most don't know is these aren't created in someone's bathroom with a pair of craft scissors while watching a YouTube tutorial. Creating a balanced and flattering shape that doesn't seem to have a rhyme or reason needs to be left to the professionals. 
Moolay – Finally enough time has passed since the last mullet trend that those scarred by flat tops backed with mud flaps can open their mind to shorter crops in the front accented with extended lengths in the perimeter. Currently, the trend mainly exists in the underground and more dramatic trendsetters, but it's making its way to the mainstream with super soft textures and a less dramatic contrast of lengths front to back.
Pixie Love – Yet another trend that had disappeared long enough for it to come out with a fresh perspective, the pixie. Seeing models and stars cropping out the upper surface is shifting short hair trends away from being almost entirely based on undercuts with longer tops. This 90's influence has been predicted for years and just now is really becoming accepted in a more consumer.
What do you think…are you seeing the same things?  What about in your salon, are the social media trends translating to your clients as well? Reach out and let me know, I'm curious.
Aspire for More,
Sam