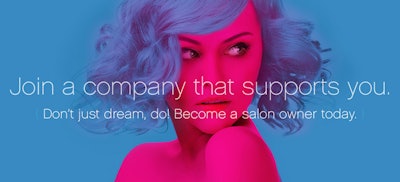 Sola Salon Studios, a top salon studio franchise in the United States, recently announced expansion plans to bring the franchise to Canada in response to increasing demand for independent salon ownership from Canadian beauty professionals. Sola's first franchise locations will open in the Greater Toronto Area in early 2017, with further expansion planned across the country.
Sola has been putting the salon professional first since 2004. During that time, a diverse community of more than 7,000 independent beauty professionals at more than 300 locations across the United States have taken control of their lives and careers at Sola for themselves, but not by themselves.
"Sola Salon Studios has always been committed to supporting every beauty professional to pursue their business dreams and goals in a high-end, fully equipped salon environment," said Ben Jones, Sola's Chief Executive Officer. "Over the last few years we've received many inquiries from Canadian hairdressers interested in Sola's concept, and we feel the time could not be better to expand Sola's mission to Canada."
Prior to announcing its plans, Sola has collaborated with Canadian beauty industry insiders and brands advocating for Sola's model, which allows salon professionals to work for themselves, but not by themselves. At Sola, beauty professionals have control of all aspects of their business such as what services they provide, pricing, scheduling and retail.
"The Sola system has grown because of the perfect balance we've struck between independence and support," Jones said. "While Sola pros have total control over the elements that are most important to them, we are there as an organization to handle factors like the startup process, facility operations and maintenance, education and networking."
Sola will immediately bring resources like its Sola Pro mobile app to Canada. Sola Pro is a mobile education and industry portal that gives Sola pros access to discounts on equipment and retail products. Sola is also committed to providing exclusive local education opportunities to Sola beauty professionals on an ongoing basis.
"We have spent the last year getting through the regulatory hurdles that come with expanding a franchise to new countries," said Kevin Lent, the co-franchisee of Sola's first location in Toronto. "The beauty industry in Canada, however, has not presented any hurdles, because of the anticipation and excitement of our expansion. We look forward to continuing to build and cultivate new relationships with brands, influencers and suppliers across Canada."
Lent, who owns Sola's franchise locations in northern Ohio and Michigan, partnered with John Platten, who owns Sola franchisees in the greater Houston area, to launch Sola's first Canadian location. Sola expects to expand rapidly into multiple Canadian markets.
"It took us 10 years to open 100 locations in the United States, and during that time we perfected our development cycle, and strengthened partnerships, standards and processes," Jones said. "That expertise allows us to move quickly on our strategic growth plans across Canada."
For more information, please visit solasalonstudios.ca.