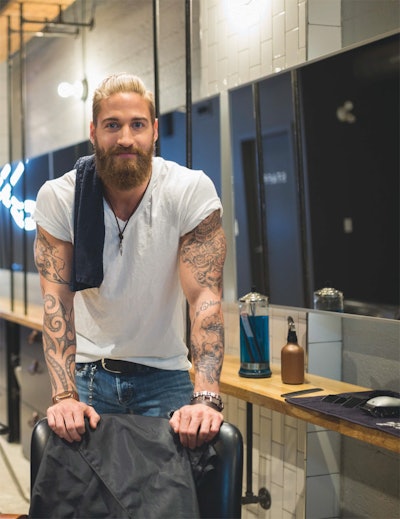 by Linda Kossoff
In times of uncertainty, it helps to hold tight to things we know we can count on, such as the sun rising every morning and our salon and spa businesses slowing down every August. There's comfort in predictability —if you're over 35, that is. Otherwise, not so much. Because in every era, there's an upstart generation who just refuses to be content with the status quo, and insists on devising new ways to look, act, and communicate. And if you don't happen to be one of them, it can be unsettling.
These days, it's the dreaded "millennials," those seemingly over-confident 20-to-35-year-olds who are becoming an influential force in the business and consumer worlds. They're energetic, fearless and uncannily comfortable with technology. And they've chosen the beauty and grooming industry as one of their favorite vehicles for creativity and self-expression.
Within this erupting demographic, there's an interesting societal twist: Young men are breaking out of old, conventional stereotypes about what is and isn't "manly." Unlike their dads, these dudes are pretty comfortable with the concept of investing time and money in their personal care. And they're proving it in the professional grooming sector as avid and savvy users of grooming products and services, and as talented, forward-thinking grooming professionals.

ALL THE YOUNG PROS
"There are many 'rock stars' in men's grooming today," acknowledges Dan Langer, CMO of Luxury Brand Partners, a consumer brand consultancy whose clients include V76 by Vaughn and Oribe. "They're amazing with clippers, short hair, long hair, you name it." And many of these stars, Langer notes, are under 30.
Just where and how will the newest generation of professional grooming celebs make its mark? No doubt some will join the barber revolution. It would be impossible for any up-and-coming cosmetology student to overlook the current trend toward retro-chic barbershops and barber-style cuts. Among her cosmetology students at Bellus Academy, owner Lynelle Lynch reports "a renewed demand for the classic barber experience, including precision cuts and shaving." So we can reasonably expect recent cosmetology grads to flood the growing numbers of themed, single-location shops and popular national franchises such as Floyd's 99 Barbershop, Roosters Men's Grooming Center, V's Barbershop, Grooming Lounge and more.
You may have noticed that those just- graduated millennial barbers and stylists tend to hit the ground running. Sociologists have taken note of this group's entrepreneurial aptitude, most likely born of a weak job market combined with staggering student debt, as well as the power to garner recognition via social media. Up-and-coming hair professionals have taken to YouTube, Instagram, Pinterest— wherever their work, techniques and personalities can attract an audience. In turn, top haircare companies and salons are scouting the Internet for new talent to recruit.
Once in the workforce, these energetic pros are making their presence felt. One such dynamo is Steven DeCarlo, who at the tender age of 27 has already assisted grooming icon Vaughn Acord and worked at numerous professional photo shoots. He sees his age as an asset—for the most part.
"Sometimes I feel like it's a disadvantage, as when a client sees me and thinks, 'Oh my, he's young, I wonder if he's good?' On the other hand, because I'm involved in social media, if a client brings up a person's name or a certain blog, I know what they're referring to," DeCarlo explains. "Half the time I have the same photos saved on my phone for inspiration! This gives me a leg up, versus a long-time professional. It has nothing to do with my talent, necessarily, it just means that I understand right away and can come to common ground with my clients."
"Millennials are demonstrating they're a new driving force," says John Swanciger, CEO of the online business community Manta. "It's no longer assumed that recent graduates will enter the traditional workforce. Companies will have to adjust as millennials become a bigger force in the small-business space."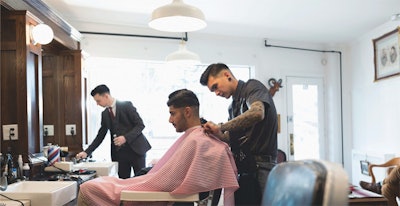 AT THEIR SERVICE
In the age of the selfie, it isn't surprising that millennials are paying close attention to their appearance. "Younger generations remain more focused on crafting their hair style and putting in the time and effort to achieve their desired look," says Charlotte Libby, senior beauty analyst at Mintel, adding that today's men "take more pride in their appearance and hair condition."
David Serrano, accounts manager for Perma Brands, a wholesale distributor of more than 20 premium men's grooming and shaving lines, has watched the growth of the male sector and sees nothing but more of the same ahead. He attributes this to a kind of paradigm shift. "Men's grooming is now considered part of taking care of oneself; it's about hygiene, regimens and enjoying good health," he explains. "Millennials are very aware of themselves, and millennial males are demanding the same options in grooming that women have had for decades." And, with so many resources at their disposal via technology, these guys can be exceedingly picky.
Young, trend-conscious male consumers have been especially receptive to the recent resurgence of barber culture, flocking to shops that are expanding on the original business model. "Today's barbershops aren't just giving haircuts," Serrano points out. "They're styling, shaving, providing manicures and skin care, and products."
Of course, barbershops already have a fixed male clientele, whereas the typical U.S. unisex salon or spa still serves way more women than men. So when it comes to 20-something males, salon professionals are looking at tremendous potential to elevate their businesses.
BOYS WILL SPEND
In 2015, a EuroMonitor International Report noted that U.S. men's grooming sales were projected to surpass $6.5 billion in 2018. How many of those dollars will come from millennials? Nobody knows yet, but this generation is just now gaining its career footing and entering its spending years. And, not by coincidence, innovatively formulated and packaged men's grooming lines are exploding with specialized SKUs for hair, beard, skin and body. "Today's millennial men are open to all kinds of products," says Serrano. "And the global economy provides unlimited choice."
Expect this generation's unprecedented awareness of social, political and environmental issues to factor into their purchase decisions. Retail experts say we'll continue to see more natural, plant-based ingredients in men's products, and questions from consumers regarding the use of animal testing and recyclable materials. Whether your salon or barbershop uses and retails earth-friendly products could determine its appeal to millennial clients.
Not only is this young generation of males ready to invest in personal care goods, but studies show that many of them actually enjoy the picking and choosing process. "Shopping is therapy, it's social, it's solitude," points out Jill Sands, consultant at Merch Media. "The Starbucks philosophy of 20 years ago was to create your 'third place.' You have your home-place, your work-place and your third place, where you can go without any pressure." For millennials, says Sands, brick-and-mortar businesses can be that place.
If adjusting to the new millennial influence sounds like too much work, take heart. All of the research on men's versus women's buying habits points to the tendency of males to be more brand-loyal. So, when this challenging new breed of consumer finally does find something he likes, he'll tend to stick to it.
At least some things don't change.