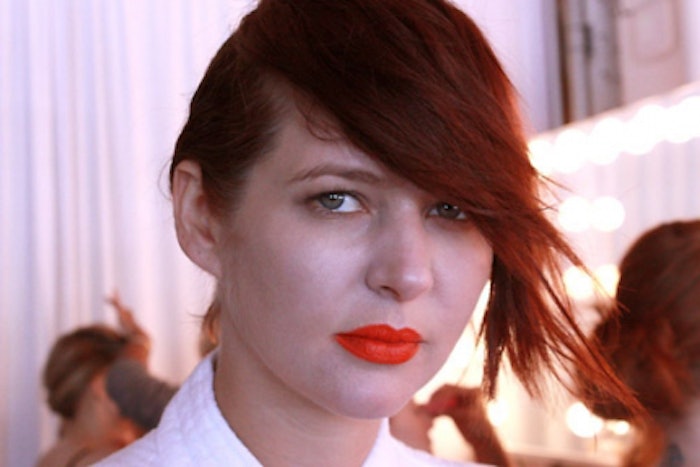 Lingerie treads a fine line: One wrong fabric choice or skimpy cut, and the itsy bitsy piece can skew trashy in an instant. But Lake & Stars never falls into this trap; the brand references retro underpinnings but infuses the styles with savvy silhouettes and sleek, modern fabrics. And for Lake & Stars' Fall 2011 presentation, the hair follows suit: no trash, all sharp femininity. "I am creating a style for a strong, young woman; she's edgy and sexy at the same time," says TIGI lead stylist Maria Kovacs backstage. "But this woman is sexy for herself, not for her boyfriend."
A sweeping fringe that connects into a mussed chignon speaks to this idea of being "sexy cool, not sexy boudoir." She applies Catwalk Your Highness Thickening Gel Crème from roots to ends, and finger-dries the hair so as not too allow tresses to become too polished. "We're then layering on Catwalk Your Highness Root Boost all throughout the length, which dirties the hair up a bit. Clean hair isn't ideal for creating a style like this," laughs Kovacs.
She describes the texture as powdery and static underneath, which adds a modern feel to the hairstyle. Taking large sections and softly backcombing them, she creates a deep side part that begins just outside of the eyebrow. She gathers and twists sections into a low chignon that she sprays into place with Catwalk Sleek Mystique Look Lock Hairspray. "This is for the girl who's contemporary and influenced by fashion," Kovacs concludes.