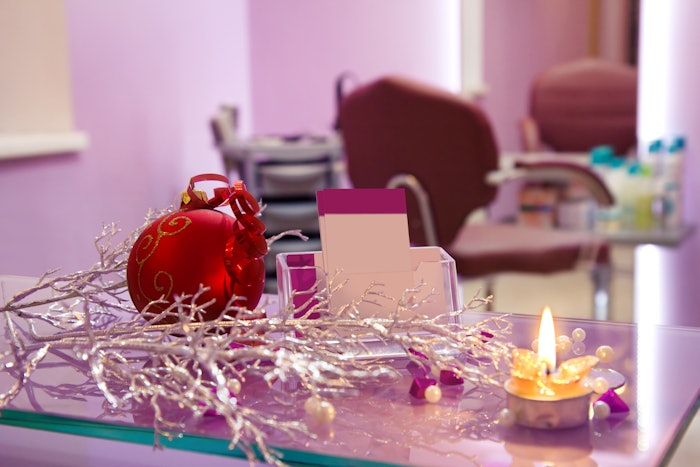 The holiday season is quickly approaching
—

now is the time to get your business affairs in order and make the best of it!

Blake Reed Evans, a Sam Villa ambassador and owner of Shear Art Salon in Tampa, Florida, offers six tips to bring a little sparkle to the season and your business:

Increasing Holiday Business
1 Decor–Get festive, but keep it neutral in terms of the type of celebration. Incorporate deep reds, forest greens or midnight blues and silvers; these colors scream holiday without highlighting a specific religion/culture. Some companies even make limited edition holiday-colored tools like ruby red

and

rose gold

that work beautifully for displays and decor.
2 Promotions–Stick to one promotion at a time. If there are too many promos it becomes confusing for guests and staff. No need to reinvent the wheel

—

Buy 2, Get 1 Free; Buy More, Save More; 20% off; holiday pre-packs; limited edition items; etc.
3 Merchandising–Make holiday packs the focal point of displays and keep a nesting table at the front door; it helps guests recognize that special items are for sale. They make great gifts for clients to give, but they are also a wonderful way for them to save money. If there are leftover holiday packs in January, break them apart and sell the products individually.
Expressing Gratitude
4 Guests–Create a loyalty program that inspires clients; for every dollar spent, appointment booked ahead or referral, reward them with something.
5 Staff–Celebrate the salon team at the end of the year for a job well done–have food catered at a cool spot, go to a local restaurant or coordinate a unique experience. The more time a team spends together outside of the salon, the stronger it becomes!
6 Give Back–Find ways to support those in need in the community; volunteer as a team, donate services, raise money or collect items for a good cause. Make it a true season of giving!

        An unexpected error occurred: Network error: Response not successful: Received status code 500
      

            [
  {
    "message": "Cannot execute GraphQL operations after the server has stopped.",
    "extensions": {
      "code": "INTERNAL_SERVER_ERROR"
    }
  }
]