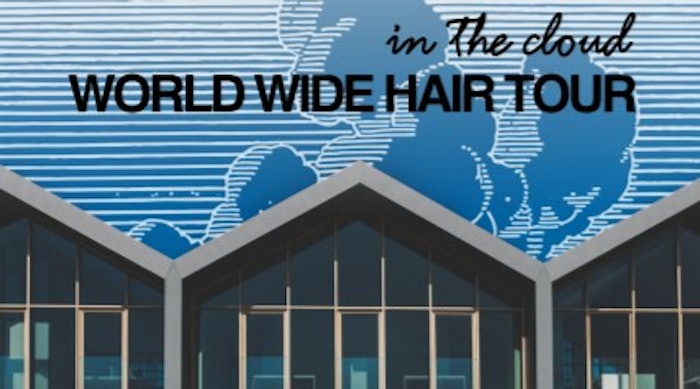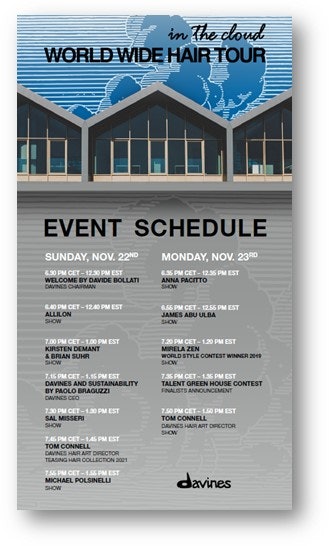 The Davines World Wide Hair Tour will take place November 22-23, 2020.
The event offers the opportunity to meet other creative hairstylists as well as share trends, ideas and projects within the framework of a forum dedicated to beauty and sustainability.
This year, the tour is available to all stylists, not just those in the Davines network.
Presenters Include:
Tom Connell Davines hair art director
Anna Pacitto Co-owner and co-artistic director of Montreal's prestigious Salon Pure, Pure Academy and the Pure group, global platform artist, Canadian artistic director for an international brand
Sal Misseri Founder of Kaizen Education and owner of Reverie salon in Chicago
Allilon Founded by Johnny Othona and Pedro Inchenko, a privately owned company that communicates globally spreading knowledge within the industry
Brian & Kirsten Brian Suhr is an international master trainer manager and was previously the Davines international master trainer manager, and Kirsten Demant is an international master trainer and part of the Davines artistic team
James Abu Ulba Artistic director for the Utopia Group in Vancouver and founder of Method-Education
Michael Polsinellii Served as global art director
Mirela Zenelaj Hairstylist and colorist; winner of 2019's World Style Contest 2019 as Best Emerging Talent
Register for the event HERE.