It has been said that imitation is the greatest form of flattery, and Johnny B Haircare President Alfonso Añorga has witnessed countless brands try and replicate the winning combination of quality ingredients, uniqueness and affordable price points that have helped the line grow throughout its 25-year history. The success of Johnny B can be attributed to many things, but Añorga's beauty industry background and understanding of its distribution network has no doubt helped catapult the brand into the multimillion-dollar landscape with no signs of slowing down. 
What began in 1994 with one product in Añorga's Whittier, Calif., garage has expanded into 33 products and a 64,000-square-foot warehouse in Commerce, Calif. North American annual sales in 2018 reached $11 million, a 10 percent increase from the previous year and a reflection of consistent growth since 2014. Añorga credits this with a more attentive industry focus on the men's segment and a more educated consumer.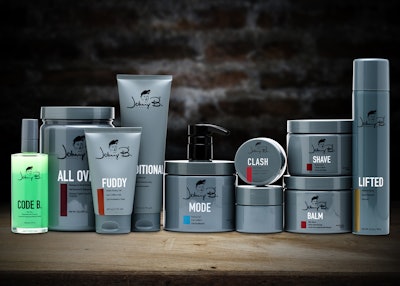 "There's no doubt that social media has played a big role in how educated consumers are about the beauty industry, and as a brand, we would have been foolish if we hadn't taken advantage of it," Añorga said. "Social media is a fast, affordable way to reach a mass audience with the variety of products, skills, and services that we offer. And that attention alone has helped us expand our reach beyond the professional."
It's that increased attention that prompted Añorga to expand the size of the education team he put in place in 2011 in an effort to accommodate the saturated national distribution landscape. Currently Johnny B educators conduct more than 200 clipper and cutting classes per year, the most of any men's brand in its existing distribution network, proving to the industry that the men's segment is viable and that marketing a barbershop brand to salons is a financial add-on that can't be ignored.  
Through the years Añorga has seen the men's segment evolve beyond haircuts and styling with a more concentrated focus on beards and grooming. The potential for product expansion in those areas has helped him conceive and develop multiple holistic items designed to help nourish, grow and maintain hair. Trends have always influenced his release of new SKUS as he works to fill voids seen in the industry, opting for calculated growth as opposed to launching a set number of products each year. That philosophy has served Añorga well, allowing him ultimate control in an ever-changing beauty climate. 
For more information, please visit johnnybhaircare.com or call 323.201.6280.