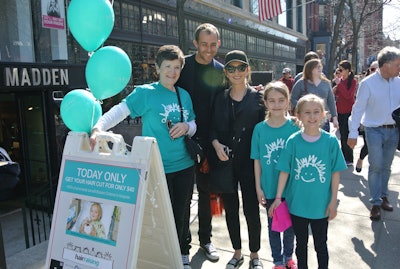 On Sunday, April 29th, top salons across the country will participate in HAIRraising, an annual fundraiser that engages the local haircare business community for a worthy cause. 100% of the proceeds of the Cut-a-thon will benefit the new state-of-the-art Heart Center at Boston Children's Hospital, the nation's top-ranked pediatric heart center. Top salons across the country are offering consumers a chance to give back simply by pampering themselves with a haircut. However, there can never be too many participants. To register your salon, click here.
HAIRraising for Boston Children's Hospital was founded in 2009 by beauty industry legends and longtime business partners, Gail Federici and John Frieda. The fundraising initiative is one close to Federici's heart: her daughter Alex was born with congenital heart disease and required extensive open-heart surgery. Having received the best care and support from Boston Children's Hospital, Alex is now an energetic and lively mother of one. Wanting to give back, Federici leaned on her colleagues: the caring and generous professionals she'd worked with in the salon industry.
"HAIRraising is my true 'work of heart'," says Federici. "Boston Children's was so amazing to us, and we want to do everything we can for other sick children, their families, and the team of dedicated doctors and staff that work so hard to make life better for all of us."
In the past eight years, HAIRraising has raised over $1,000,000 for Boston Children's Hospital.
[Image courtesy of HAIRraising]