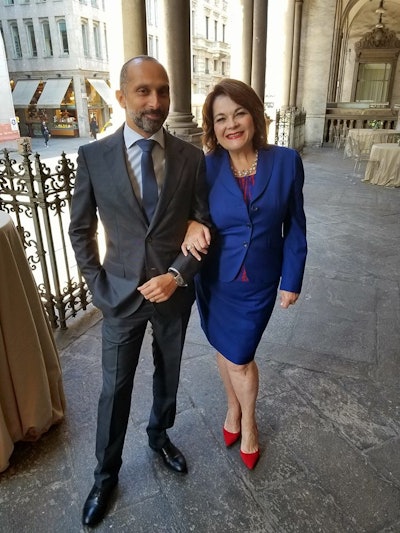 Repêchage CEO and Founder Lydia Sarfati and Repêchage Italian distributor Euracom hosted the Turn Back the Clock skin care conference and Master Class workshop for over 80 professionals, sharing the latest trends in skin treatment. Held at the Palazzo dei Giureconsulti in Milan, this conference celebrated the Repêchage-Italy partnership and introduced the latest professional treatments, including the new Repêchage Biolight™ Luminex Mask, a hybrid express peel for skin brightening, and Repêchage Triple Action Peptide Mask, a Peptide and Seaweed-based sheet mask to hydrate, firm and brighten. Following the Conference was a two-day Master Class led by Sarfati and Brian David Coone, Repêchage educator and Owner of David Douglas Spa in Wilton Manors, FL.
For over 80 beauty professionals, Sarfati shared the history and unique skin care concepts that have helped Repêchage become an international skin care company that currently serves 45 countries. One reason Repêchage has been successful in the professional skin care industry, said Sarfati, is the company's ability to conceptualize, design, and develop new and unique concepts that can be easily implemented by beauty professionals.
Such is the concept behind the new Repêchage Peel and Glow Facial, demonstrated for attendees. Designed to provide deep exfoliation and brighten the appearance of skin, this treatment features the new Repêchage Biolight™ Luminex Mask andTriple Action Peptide Mask. As Sarfati explained, while glycolic peels were typically used in the past to help treat hyperpigmentation and uneven skin tone, they can be irritating to sensitive skin types. The new Repêchage Biolight™ Luminex Mask is a clay-cream based mask that combines AHA's with deep cleansing Kaolin Clay to get a peeling effect without potential irritation. The new Repêchage Triple Action Peptide Mask follows, and is a power-packed sheet mask that combines multiple Peptides and pure Seaweed extract to help hydrate, firm, and brighten the skin's appearance.
Guest speakers for the Conference included Dr. Sergio Noviello M.D., a cosmetic medicine expert and consultant, certified by the International Division of American Board of Cosmetic Surgery and the World Academy of Cosmetic Surgery Board. Dr. Noviello discussed the impact of beauty on lives, sharing the evolution of beauty throughout history – from the dark ages to the Renaissance, and how the meaning of beauty has changed for men and women. He also spoke about the growth of plastic surgery, saying that he predicts an increase in collaborations amongst cosmetic specialists at various levels.
Angela Noviello, Director of the Aesthetic Division, Milano Estetica Cosmetic Surgery and Medical Spa, director of Oncology Training International-Oncology Esthetics in Italy and the president of the International Society for Oncology Esthetics-Italia (ISFOE), also took the stage to discuss passion and esthetics. Angela spoke about the birth and the growth of Milano Estetica, her spa in Milan, and various projects she is working with including: OTI, Oncology Training International Oncology Esthetics, and the partnership with Euracom and Repechage. Noviello shared how love, respect, ethics, professionalism and determination have helped her reach her goals and turn her into a forward-looking entrepreneur.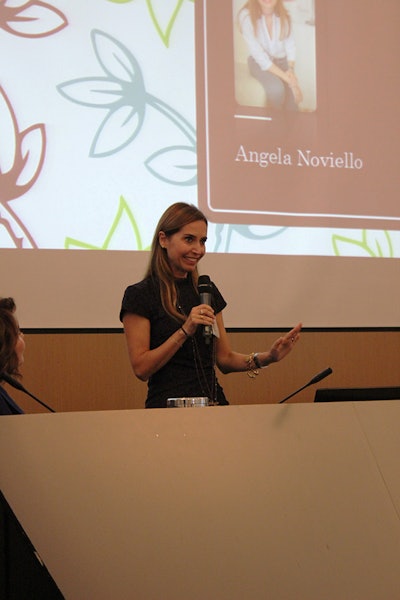 Following the one day Conference was a two day Master Class led by Sarfati and Brian David Coone. During this two day seminar Sarfati and Coone led a workshop that included business building tips from Sarfati's book "Success at Your Fingertips: How to Succeed in the Spa Business" and hands-on training with both face and body treatments, including the Repêchage Biolight™ Luminex Mask, Repêchage Peppermint Sea Twist® Treatment, Repêchage Cryotherapy Slimming Treatment, and Repêchage Anti-aging Hand Treatment.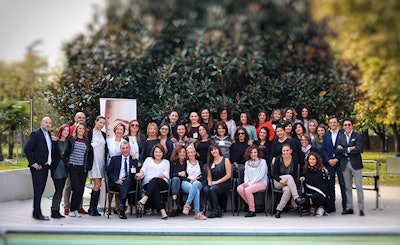 For more about Repêchage, visit www.repechage.com
[Images courtesy of Repêchage]