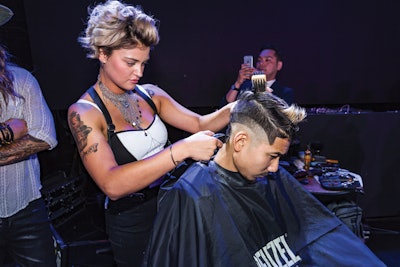 Barbering has long been thought of as a man's game, but in an old theater in Downtown Los Angeles, female barbers proved that they're ready to be taken seriously. The Barberella was the first-ever all-female barbering competition, open to all women barbers at any professional level, affiliated with any brand.
Lady barbers were asked to upload their best men's barbering cut and style for an online photo competition. Out of more than 1,000 entries, five barbers were chosen as finalists to compete at the live event held on July 16 at the Globe Theatre in Los Angeles: Akira Mink, Claire Ramirez, Dayna Gamba, Keller Leishman and Taylor Leven. On stage, the finalists were encouraged to show as much precision and technique as possible during the 45-minute competition. While all five finalists were gifted a pair of Mizutani Schorem scissors, Wahl clippers and the entire Reuzel line, judges the Schorem Barbers, Sofie Pok, Julius Caesar, Nina Kovner, Daniel Alfonso, Matt Beck and Daisuke Komatsu named Leven the grand prize winner. She took home $5,000 cash and a five-city Asian tour with the Schorem Barbers.
Leven is a licensed barber and cosmetologist at Skull & Thrones Hair Society in Addison, Illinois. Of her competition style, Leven says, "My inspiration came from '90s grunge fashion. I'm a '90s baby, and I think my heart will always reside there. I love the messy grunge look, and I basically wanted [my model] to look like he was from a boy band. I pretty much ran wild with it and tried to incorporate the widest range of skills I could in a single look.
"I'm so blessed to have been a part of [The Barberella competition]," Leven continues. "It truly was one of the best moments of my life, not only being on stage with all of the extremely talented finalists, but also standing beside all of the judges I've idolized for so long. It was such a surreal and life-changing event!"
[Image courtesy of Steve Kim]