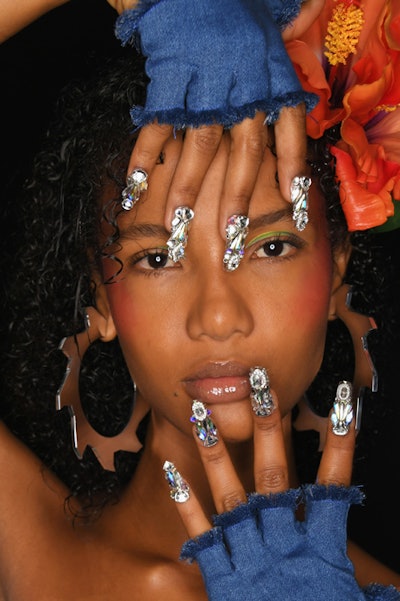 Is it surprising that a hibiscus flower that dwarfs the size of the models' heads plays a central role in the hair look at The Blonds show? Season after season, the design duo behind the performer-adored label task Oribe hair lead Kien Hoang with crafting outré hair designs for their runway shows; this Spring 2018 season isn't any different in that respect. But rather than do enormous, outsized updos, Hoang has another design in mind: drenched tresses crowned with a big, bold flower. "The Blonds showed me several references of musicians: Elvis, Prince, Grace Jones. Plus, they have a ton of different textures and patterns, like lace and graffiti, in the collection," Hoang says. How does the hair look play to these ideas? "Well, the wet hair can look like Prince. And, we're finger-raking the hair back away from the face, and then pulling forward some little 'spit' curls, sort of like Elvis," he says.
To get those drenched tresses, he first mixes equal parts Oribe Curl Gloss Hydrating and Hold and Surfcomber Tousled Texture Mousse in his hands and passes the mixture through the hair, roots to ends. After diffusing hair, Hoang applies Oribe Royal Blowout Heat Styling Spray for protection and then adds Cote d'Azur Luminous Hair & Body Oil to drum-up separation. An extra heaping of Cote d'Azur Luminous Hair & Body Oil souses the hair to the extreme—an effect that Hoang says "looks as though the girls are coming out of a pool, with the water dripping from their hair. As the girls walk down the runway, it should like the hair is flipping around and dripping wet." The final crowning jewel, that extra-large hibiscus, sits perched above the left ear of each model and, of course, Hoang spritzes it, too, with Cote d'Azur Luminous Hair & Body Oil so that it looks like the petals have the ocean's spray on them.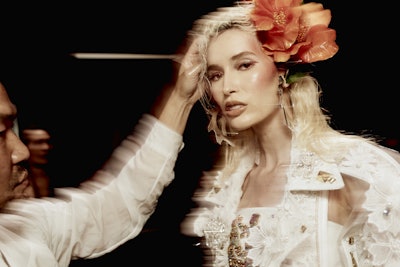 The makeup is just as out-there as the hair, with floating holographic arcs lining the models' eyelid creases. "It's a unique detail in the eyeliner … hand-cut from iridescent plastic that's actually used in the collection," says MAC makeup lead Kabuki. "It has this gleaming effect of a darting hummingbird, and adds drama." The rest of the face boasts luminous skin and cheeks done up in a "disco" application: up the temples and down the cheekbone, á la Grace Jones. "We're also making the blush application heavier to reflect the color of the hibiscus," he says. As a final touch, Kabuki glosses lips to the hilt with this combo: a MAC Retro Matte Lip Color that matches each model's skin tone and a thick coat of MAC Lipglass Clear.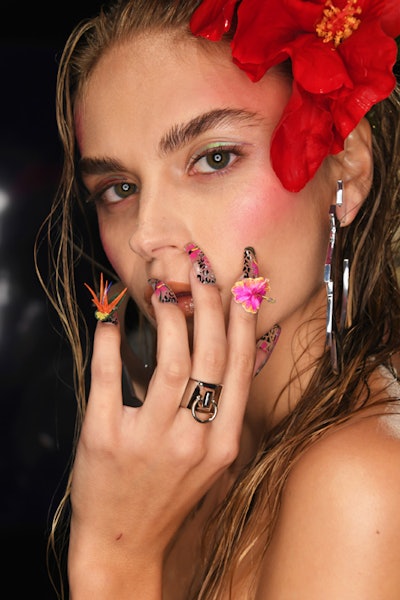 And then there's the nails: a collection of fierce animal print, denim patterns, 3-D lace textures, gorgeous sculpted birds of paradise, and crystals—loads of crystals. "We're calling it 'Blond Paradise,'" says CND nail lead Shelena Robinson. "It's opulent and lush, with bright, bold colors and exotic prints done in a whole new way—they're glow-in-the-dark!" In fact, almost all of the nail art features some form of glow-in-the-dark surprise, which Robinson has her fingers (and nails) crossed will shine through on the runway. "They say they will be lit on the runway, so we'll see!"
[Photos: Courtesy of CND; Oribe]