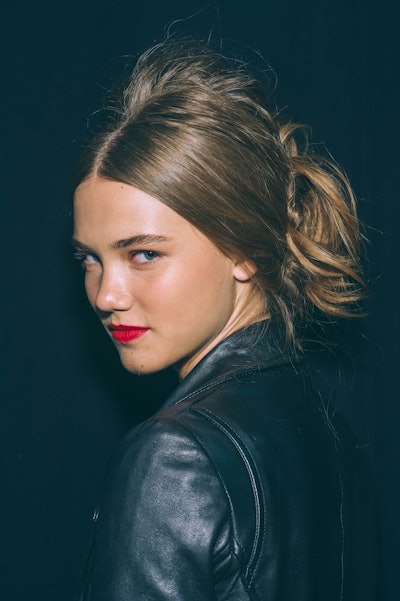 "It's all about the texture; we're looking for diaphanous texture," says Cutler Salon hair lead Peter Gray backstage at Badgley Mischka. He's talking about the fabulously gauzy beauty of the soft bouffant he's created, using Redken Guts 10 Volume Spray at the crown for an extra boost of height and Redken Windblown 05 along the entire surface of the hair for added body. He explains that the diaphanous texture is essential because "it makes the updo not frumpy. It's more relaxed yet glamorous—which it should be because the inspiration is the island of Capri in the late '50s and '60s … it's that relaxed Italian glamour of those times."
To create the knot in the back, Gray tapes in DreamHair Tape-In Extensions and then divides the lengths into two sections, which he ties and knots, ties and knots, and then pins into place. "At the end, we're using Redken Powder Grip 03 at the crown, but you have to apply it to your fingers and rub it in rather than just sprinkling it on," he says. His reasoning: Applying it locally rather than all over allows you more control over the amount of texture. A final spritz of Redken Fashion Work 12 Versatile Working Spray allows Gray to tailor the look to perfection.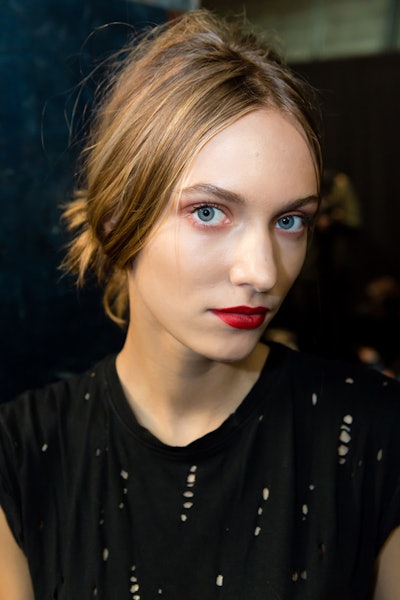 The makeup look, curated by Inglot makeup lead Gucci Westman, also reflects the carefree Italian beauty Gray referenced. This translates to healthy-looking skin, subtly flushed cheeks (Inglot Freedom System Blush in #124) and eyes done up in a "concoction of rusty copper tones," says Inglot regional trainer Michaela Polaco. "Gucci didn't want to overdo the shine on the eye, so we used several finishes of the Inglot Freedom System Eye Shadow to give a blown-out effect," she says. The only "overdone" part, Polaco claims, are the lips: a bold matte metallic red lip born of Inglot Matte Lipstick in #229, #408 and #438.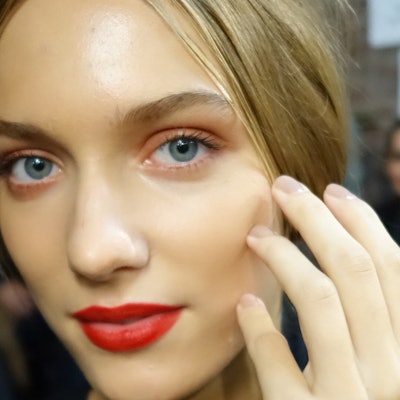 To finish off the Capri beauty ideal, nail lead Deborah Lippmann coats toes in Deborah Lippmann It's Raining Men (a red) and fingernails in two coats of Deborah Lippmann Fashion. "We wanted a perfect nude to complement her bronzed skin, so I chose Fashion, a not-so-typical taupe, for the manicure," she says, adding, "It should look like the girls are wearing sand." Lippmann shares this tip: You can tell your nude polish is clashing with your skin through observing your cuticles. "If you put on the wrong nude, your cuticles will change color—think: gray or ruddy. If it's the right nude, your cuticles will stay true to their natural hue," she says.
[Photos: courtesy of Inglot; Jane Kratochvil for Cutler Salon; Karie L. Frost]