Mixing references is nothing new in the fashion and beauty worlds, but sometimes they're so disparate, they can be a head-scratcher to combine. But not for Joico hair lead Vivienne Mackinder, who's knack for blending together eras is legendary in hair circles. Aboard the Intrepid aircraft carrier on the Hudson River in Manhattan, Mackinder is pulling together three references for the Malan Breton hair look: Edwardian-era beauty, Broadway musical Hello, Dolly! and the Doors' singer Jim Morrison.
"You just have to mix it all together!" she exclaims, and that she does, her efforts culminating in an intentionally mussed bouffant ponytail. "We have a slight bump in the back; Malan didn't want the bump up top, he wanted it in the back," Mackinder explains. "If it was up top, the look would be too '50s. In the back, it becomes more modern; it's a totally different silhouette."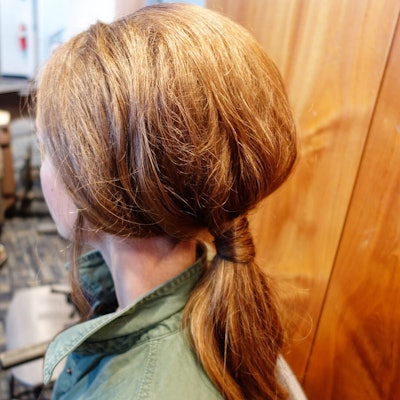 To achieve the look, she peppers hair with Joico Hair Shake Finishing Texturizer Spray for desired separation and texture that modernizes the style. Then, Mackinder creates a center part "with a bit of relaxed feel" along the front section of hair. Starting at the crown, she takes thin sections of hair and backcombs each, spraying the French-laced area with Joico Power Spray Fast-Dry Finishing Spray 8-10 and then wrapping the teased hair around a large-barrel iron.
"This really sets the tease; it makes it stay strong," she explains. After "stacking and packing" the hair and releasing her set, Mackinder pulls the lengths back into a low ponytail, making sure to keep her bodacious bouffant at the back of the head—no higher. She stresses the key to the look is that it's loose yet luxe; it's 21st-Century beauty all the way. "Today most hairstyles need to look relaxed and lived-in to feel modern; they should look pretty, but not feel too perfect," she explains as she pulls apart the bouffant ever so slightly. And though she desires an undone affectation, that doesn't stop her from perfecting the look with a final misting of Joico Design Works Shaping Spray 03 to lock it into place before the models slide into their gowns and hit the runway.
[Images by Karie L. Frost]