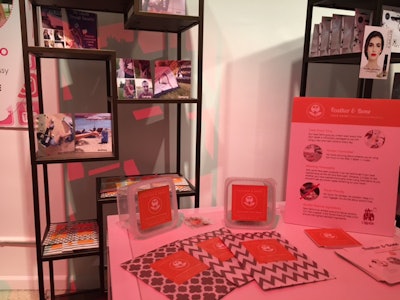 A sneak-peak event was held in NYC a month ahead of the annual record-breaking convention.
Get ready to get amped up for the biggest event of the year! Cosmoprof NA landed in New York City for a special press preview of their larger-than-life tradeshow, coming to Vegas in exactly one month (let the countdown begin)!
The show is celebrating its 15th birthday this year, having grown to extreme proportions—over 33,000 attendees and over 1,100 exhibitors are expected to touch down at the Mandalay Bay Convention Center. They will not be disappointed, 2017 features a twist. This year, Cosmoprof NA is emphasizing strategic partnerships with social influencers.
This was digital angle was definitely felt at the preview. Each line featured two representatives from the company to explain the how-to's of their amazing offerings; highlights included a face-wash that expands from a tablet into a paste-like soap—just by adding water; a vegan nail polish line, and lashes that last up to 25 uses, no mascara required. And sitting on a throne-like chair next to the products was an IRL social media maven. The ladies selected the product category of their choice—hair, organic beauty, skincare, nails, and make-up—not only offering a fresh-take on the goods, but also spreading awareness across their 100,000+ channel, hosting a behind-the-scenes experience for those who couldn't be there.
One of the main things that continues to set Cosmoprof apart is just how hands-on Marketing Director Daniela Ciocan is. "My team and I hand curate the products that go in," she explains, adding, "and we have a very good track record." Ciocan notes, "We have different special areas that cover different product categories. There's only ten here but there's 1,200 in Las Vegas," she says, explaining the scale of the sneak peek vs. the real thing.
Ciocan is also eager to mention that if you are an entrepreneur in beauty, you want to make it to the show in Vegas. "We have about 1,500 entrepreneurs participate in the session," she explains. "We cover everything from branding, marketing, regulation, digital, social, scaling up, packaging, inspiration and motivation. We also have special events for those that do hair and makeup."
"Cosmoprof North America is a celebration of beauty that provides key executives from around the world with the opportunity to discover new partnerships for growth and innovative solutions for evolving brands," comments Ciocan. "This year's unique exhibitors and debut programs, coupled with the high caliber of our attendees, guarantees yet another successful event that will exceed expectations."
When it comes to Cosmoprof NA, what happens in Vegas doesn't stay in Vegas. See you in 30 days!
[Images by Emilie Branch]