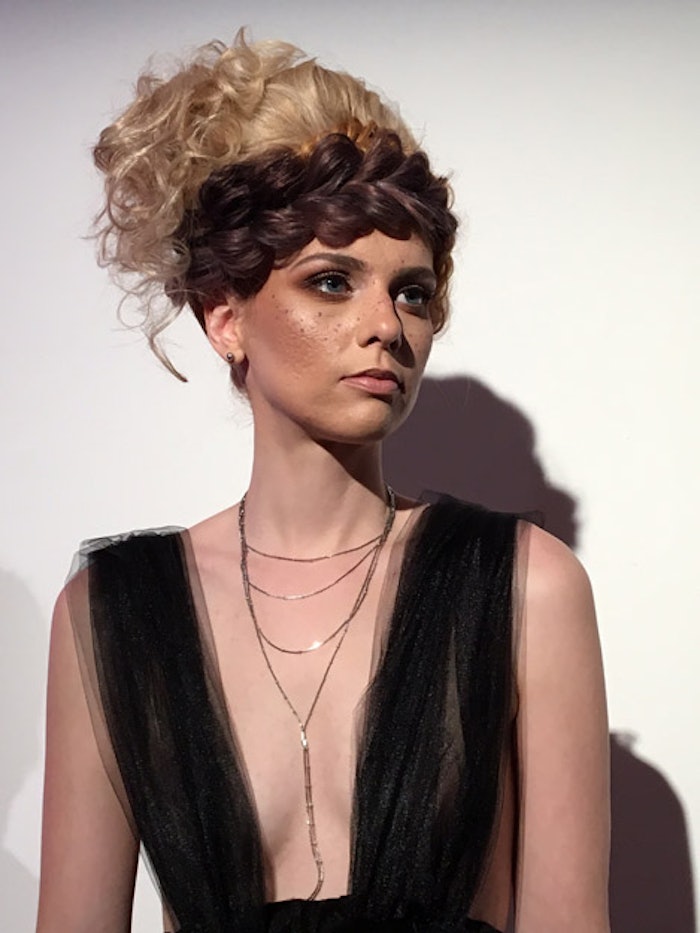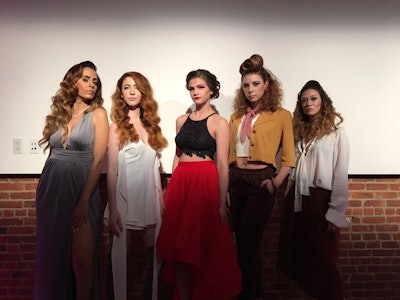 There's nothing like a team to give you a leg up on the competition. At the Wella Professionals Regional TrendVision Competition taking place in New York City on Sunday, April 30th, each of the fifteen selected stylists were given a glam squad to bring their look to life in front of an audience of over 300 guests. The squad included a wardrobe stylist, make-up artist and photographer, with each of the final styles being photographed. These photos will not only add to their individual books, but will be their official submission to the contest on the national level.
Each hairdresser began working on their creation starting in the afternoon, selecting from the seasonal inspiration of "Optical Illusion" for Spring/Summer or Autumn/Winter's "Past Forward." After prepping each look down to the last detail, all got a chance to interview with the judges one-on-one. The panel included Wella Professionals Top Artist Shirley Gordon, Director of Education for Sally Hershberger Mary Brunetti and American Salon Senior Digital Editor Courtney Bright.
The night kicked off with each model posing for attendees, who could vote for their personal favorite to win the coveted People's Choice Award via @wellaeducation on Instagram. The event was dedicated to the late Fabio Sementilli, Vice President of Education for Wella, who was always looking for the next talent. His legacy continues to be about moving the industry forward and sharing opportunities.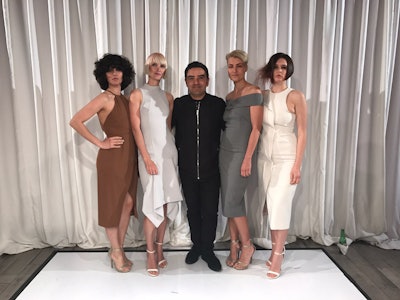 Before the TrendVision Regional New York winners were announced, guests were treated to live presentations from top talent centered on streetwear, salon fashion and editorial. All bases were covered—from what happens every day in hair to the most avant-garde displays (and where those meet). Representing Sebastian Professional, Diva Poulos created a youth-centric rebellious collection, Michael Haase dazzled with boundary-pushing color for Wella and Manny San Martin turned to powerhouse Alber Ebaz to inspire his modern-day classic creations for Nioxin.
After the legends left the stage, the competitors took to the runway and the winners were revealed. Each winner will be automatically entered as a semi-finalist on the national level, with an all-expenses paid trip to attend the National Trend Vision Awards happening in Los Angeles, California this July. You still have time to enter—the deadline for the US and Puerto Rico isn't until May 15! Simply click here for your chance to compete.
Congratulations to the New York winners!
Color Vision Category
Edison Lu, & Hair Lounge - New York, NY
Creative Vision Category
Alejandro Jimenez, David's Beautiful People - Bethesda, MD
Student Category
Danyell Snyder, Metro Beauty Academy - Allentown, PA
People's Choice Award
Shelby Anderson, Vichelles Salon - Alexandria, NY
[Images by Emilie Branch]