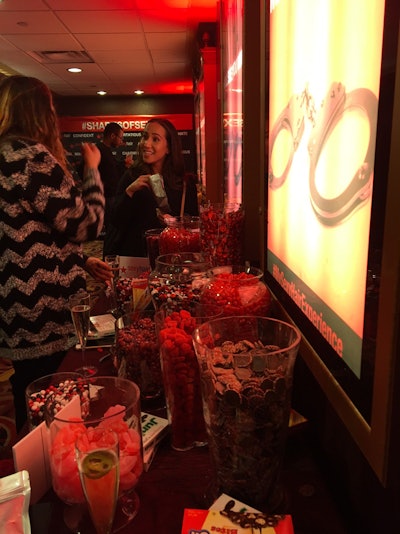 Sexy Hair is making us feel a whole lot sexier, just in time for Valentines Day. The bold haircare company couldn't have picked a better movie, 50 Shades Darker, of course, to align their brand with. As female lead Anastasia goes from girl-next-door to vamp, her hair gets notably longer.
"Long, luxurious hair has always been labeled sexy," explains Sexy Hair's Sloane LaMartina, Director of Communications. "Long hair is sexy in a different kind of way," she continues. As mirrored in the film, the sexier Anastasia gets as, the longer her hair; the easiest way to cheat waist-length locks? Extensions are becoming the de rigueur go-to.
This is a trend that is not going away, LaMartina reassures us. "It's a one billion dollar market with 70 million consumers." For Sexy Hair, this definitely means business. The brand has created a line specifically designed to care for extensions.
Jennifer Weiderman, Vice President of Marketing, explains this amazing new business expansion. "We're here to launch Long Sexy Hair," she says of the event. "The products work both on extensions and naturally long hair," she continues. There's no doubt that Sexy Hair has chosen their ingredients right. Moringa oil, the main component of the line, is known for strengthening and nourishing hair, as well as combating split ends.
To give attendees the ultimate Anastasia Steele experience while re-enforcing their game-changing new products, Sexy Hair created a one-stop-shop for sexiness in the private, appropriately named, Red Room of the AMC Lowes Theatre in New York City. Guests were welcomed to the event by an incredibly buff man in front of a wall of roses, before being ushered towards an extension bar. From there, guests were given eyelash extensions and a make-up application that emphasized a smoldering dark burgundy lip, completing their transition to sex goddess.
Attendees were also served cocktails and array of hor d'oeuvres by gratuitously shirtless men—some of who donned the famous 50 Shades Darker masquerade mask for an added dose of mystery. Because no movie is complete without popcorn or candy, Sexy Hair made sure there was a self-serve bar for both, where guests were encouraged to fill-up bags to their hearts delight. As if this wasn't enough, even more, irresistible, scantily clad servers circled the theatre with glasses of champagne and Junior Mints—if only every concession stand looked like this…sigh. Guests left the #MySexyHairExperience feeling just like Anastasia, and right in time for February's day of love.
- Emilie Branch