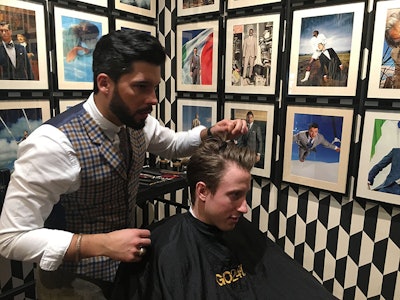 What pairs best when getting fitted for a sharp suit? A complimentary luxury haircut, hot towel shave or beard trim by a master barber, we'd say! Recently, men's grooming brand GO24.7 set up an in-store pop-up barbershop at the swanky Suit Supply shop in Manhattan's SoHo neighborhood. Gents nabbed nifty duds while receiving the royal grooming treatment from GO24.7 Artistic Director Manny Padron, who sent off guests looking dapper from head-to-toe. MAN caught up with Padron while he trimmed and shaved Manhattanites to get the scoop on GO24.7, barbering trends and tips for up-and-comers. Read on to find out more.  
MAN: How did you come to be involved with GO24.7?
PADRON: I met [Unite and GO24.7 founder Andrew] Dale about six years ago and he took me to lunch and told me about the line and how he got started in London when he was 16-years-old as the assistant for Vidal Sassoon. Vidal is the god of all hair! Dale then became very successful as a salon owner and hairdresser. I love telling his story because it's so inspiring. I still get chills when I talk about it! 
I own [Substance Salon & Barber Spa, in Rutherford, New Jersey] and I can contribute a lot of our growth to being partnered with GO24.7 and Unite. They support me as a hairdresser, business owner and as an artist. [As soon as our salon started] carrying the line we felt a very strong connection to the culture of the company and the way it operates its marketing and imagery. I also wanted to pursue becoming a Unite educator so I did. After teaching for a while I wanted to be on the artistic side of what happens, so I became an Artistic Director for G024.7. Now I get to do really exciting and cool things like this pop-up shop at Suit Supply, performing at Global Sessions and doing Fashion Week. As artists there's an evolution. I've heard Gary [Baker], the creative director of Unite, say, 'Hairstylists want to be creative and then they want to make money, and then when they make money they want to be creative again.' It becomes finding inspiration versus having to make money. I'm at a point where creativity is everything to me and collaborating with GO24.7 has been dynamite. 
MAN: What's your go-to GO24.7 product?
PADRON: The Styling Cream! It's got a matte finish. Most guys have a lot of hair so you want something that's going to hold the hair but that's not going to look like you have a ton of product in there. It creates an effortless style, which is a trend [right now]. It should look like they woke up with that hair. 
MAN: On that note, what are some of the current trends?
PADRON: This winter it's definitely going to be lengthy hair. Hair isn't just fashionable—it's also functional. So that means hair and beards will be a lot longer. But I think the longer beards are going to be more cropped instead of so heavy. And they're functional because they keep your face warm and the hair actually keeps your head warm! My vision for men is stepping away from very tight-on-the-side fades to a cropped, texturized look with some length on the sides. 
Backstage at Fashion Week, I've noticed models have lengthier sides and lengthier hair on top so the hair looks effortless, moves on its own and has more of its own natural state as opposed to being so forced. I also think we won't be so crazy with the beards. When I go on Instagram and I see everyone with the same style, that's when I start to look for something else. What else can we do besides this [trend] so things don't look so cookie-cutter? 
MAN: What about the spring trends when the weather warms up?
PADRON: Fashion and hair are so intertwined—especially in the men's world. They're two different worlds yet they're in the same universe so I get a lot of my inspiration from watching runway shows and presentations, like Suit Supply's, and seeing what the designer's inspiration is. It's a collaborative effort between the two. So, I think we'll see more of a cropped length that won't be with a clipper but will be more precision cutting with scissors so the back still has a little texture and isn't completely shaved—the silhouette isn't as tight.
MAN: Will beards stay warm and fuzzy?
PADRON: I feel this is the last of the Mohicans for beards! I think it's overdone. Hair should be functional; if you have a big beard in the summer and it's 90 degrees, it's counterproductive. It's like having a sweater on your face! It should be trimmed and more like a shadow, scruff or what I like to call "manicured scruff."  The facial hair should look effortless, like your beard just grew in that way. There's a tremendous amount of effort that goes into it, but you don't want anybody to know that! 
MAN: What's the importance of GO24.7 partnering with Suit Supply at an event like today's?
PADRON: The worlds of fashion, grooming and hair are very connected, especially for men. So it's a natural progression for G024.7 to partner with Suit Supply because when a man comes in to get a suit, the look isn't complete without his hair and grooming looking right. When you look at a man, you look at the entire picture. When you see a model walking down the runway, there's always a hairstylist working with that model. Even if his hair looks disheveled and messy, there's definitely a science to that madness. It's intentional.