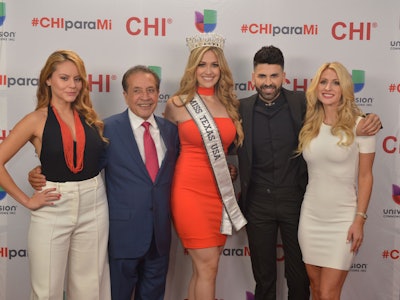 Farouk Systems, Inc. officially kicked off the #CHIparaMi campaign with celebrity hairstylist and Univision's television personality Jomari Goyso and Dr. Farouk Shami on August 24, 2016 at the EPIC Hotel in Miami, Florida. The event was hosted by Univision's Francisca Lachapel and included a social media launch along with styling stations, product displays and discussions about what this campaign means to both Dr. Farouk Shami and Jomari Goyso.
Together, Farouk Systems, Univision and Jomari Goyso launched this new #CHIparaMi campaign to deliver motivational content and brand exposure to the Latina market in Spanish through Univision programming. #CHIparaMi will feature 8 commercials during prime time television along with unique social content that will include photos and tutorials from Jomari Goyso as well as empowering and educational tours hosted by Dr. Farouk Shami and Jomari. To accomplish this, they will select six top cities in the United States that they will visit to provide beauty education and makeovers within the Latin community. This will also include a commitment from Farouk Systems to donate $100,000 in products monthly.
During this event, Dr. Farouk Shami surprised two Miami Charities - The Lodge and The Lotus House by donating $50,000 in CHI Haircare product donations. As part of Univision's commitment, the first TV spot with Dr. Shami and Jomari was previewed by all the attendees to receive the first glimpse of this partnership in action. The official air date was Sunday, September 4th during the Sal y Pimienta show at 9 PM. A recap of the official launch also aired on Despierta America.
Farouk Systems is especially excited about working with Jomari on the #CHIparaMi campaign as Jomari is not only a celebrity but also a famous hairstylist that understands what Latina women need and want. Jomari, as the new face of #CHIparaMi, will be helping Farouk Systems spread the word about CHI Haircare tools and products as well as working to give back to women's shelters in NY, LA, and Houston.
To learn more about the Jomari Goyso #CHIparaMi campaign, follow CHI en Español on social media.