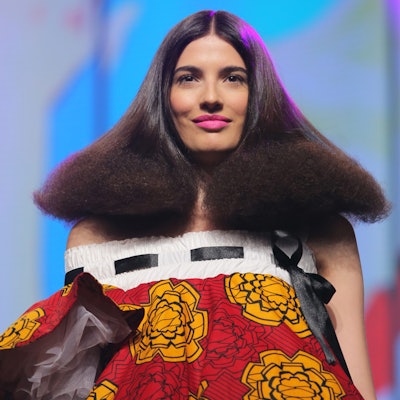 On Sunday, July 24th, over 3,000 beauty professionals from around the globe gathered at the Mandalay Bay Resort and Casino in Las Vegas, NV for the 27th Annual North American Hairstyling Awards (NAHA). Aveda Global Creative Director Antoinette Beenders' five model theatrical presentation "Cheeky Pop," brought these beauty professionals to their feet with its exuberant, playful energy. An artistic tribute to the heritage that is Aveda — beauty, wellness, environment, fashion and art — Beenders was inspired by a recent exhibition at the Albert Hall museum in London that showcased works of art as influenced by iconic pop artist Andy Warhol and the overall pop art movement.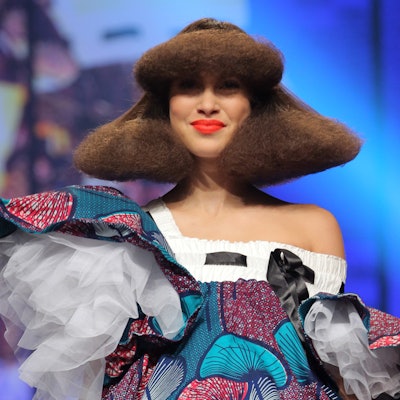 The "Cheeky Pop" models walked a runway lined with floating flowers and petals, while wearing custom-made organic cotton dresses bursting with bright floral designs that swung to the music. The sculptural hair styles featured a graduated styling technique that "provides an instant haircut without scissors," according to Beenders. All models displayed Aveda Hair Color that paired beautifully with the architectural, couture hairstyles. The makeup corresponded with the theme as pops of color were vibrantly displayed on the models lids and lips through their beautiful, fresh skin.
 
"'Cheeky Pop' is part pop art, part anime and a whole lot of Aveda," Beenders said. "I wanted to present something joyful and beautiful, a moment of happiness and pure playfulness. The looks were all about a happy lightness, from the vibrant Aveda Hair Color to the fashion-forward flouncy dresses."
 
Beenders was assisted by a team of Aveda Artists, including four members of the Aveda Global Artistic Team: Allen Ruiz, Aveda Global Artistic Director, Hair Styling; Janell Geason, Aveda Global Artistic Director, Makeup; Ian Michael Black, Global Artistic Director, Hair Color; and Tippi Shorter, Aveda Global Artistic Director, Textured Hair. Also contributing were Bea Watson, Global Educator, Hair Styling; Anne Skubis, Aveda Makeup Purefessional; and Aveda Editorial Artist Robert Grimes, 2015's NAHA Hairstylist of the Year and Contemporary Classic Award winner.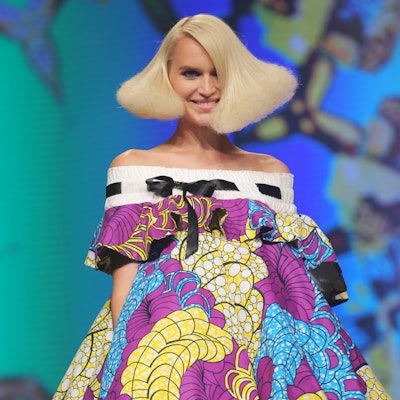 Among this year's NAHA winners were Evan Erickson of the Aveda Institute Dallas, who won Newcomer Stylist of the Year, and Jesse Ervin of the Aveda Institute Toronto, who took home the Student Hairstylist of the Year award. Both winners graciously accepted their awards while thanking their mentors, including Ervin's mentor Tristan Morrison, Senior Educator and Creative Director, Aveda Canada.
See the full list of this year's NAHA winners, here!