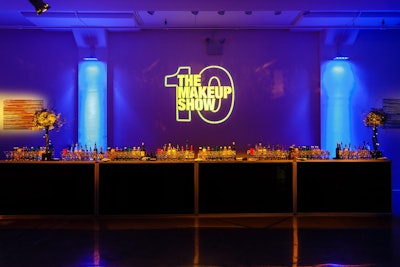 To close out its tenth anniversary year, The Makeup Show LA is inviting guests to raise a glass with fellow artists at The Makeup Show Gala on March 18th, 2016 from 7:30PM to 11:00PM. The event will be held at the beautiful and historic Millennium Biltmore Hotel, the site of the very first Academy Awards.
LA's esteemed makeup community will gather together to remember the past and toast to the future as they honor Iconic Women in the Industry throughout the years. The theme of the event will be "Old Hollywood Glamor" - with the Millennium Biltmore Hotel being the supreme setting for LA's finest artists to mix and mingle while sipping drinks and dancing.
"We are happy to close our 10 year celebration in the west coast with our LA show," says Shelley Taggar, owner of The Makeup Show. "We started the year in May celebrating with artists in each city we visited and I wanted to celebrate the end of this year with the west coast artists and brands, while covering some of the women in the industry that have made a difference and created this community. I am very happy to have this event in LA"
Attending guests will be joined by sponsors, including MAKE UP FOR EVER, Embryolisse, Kat Von D, TEMPTU, NARS Cosmetics, Crown Brush, Friends Beauty Supply, Glamcor, and Alcone. Tickets will be on sale for $115 at www.themakeupshow.com.
The Makeup Show LA Gala will be followed by two days of education, inspiration, and opportunity at The Makeup Show LA. Attendees will have the opportunity to interact with today's hottest brands as well as to participate in workshops and seminars led by some of the most influential leader in the industry. With a focus on celebrity, red carpet and FX makeup, participants will have the weekend to hone and sharpen their skills with the best of the best, as well as the chance to network with some of todays' leading brand execs and CEOs.
The Makeup Show LA will be held Saturday, March 19, 2016 from 9AM to 6PM and Sunday, March 20, 2016 from 9AM to 5PM at the California Market Center, 110 East 9th St., Los Angeles. For a complete list of participating brands, educational speakers, schedule of events, and prices, please visit www.themakeupshow.com.